Meet the Team – Chris Hogg
External Sales Representative and ProMinet Product Manager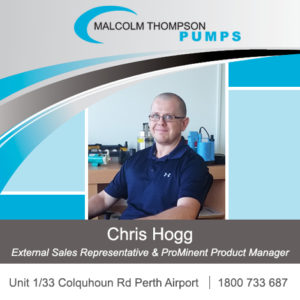 Based in our Perth branch, Chris has extensive experience in the pump industry, having worked for MTP over 17 years in various roles within the company.  Chris has completed industry training and development certifications, on-the-job training and pump product courses with ProMinent and other manufacturers.
Chris is an expert in chemical metering and dosing working across a range of industries including water authorities, mines, oil and gas, laboratory applications, food and beverage, manufacturing and the pool industry.
MTP is a proud distributor of ProMinent chemical dosing pumps across Australia and it the exclusive distributor in Western Australia.
Chris is able to provide strategic advice to customers based on their requirements and applications, and he is a valuable team member to MTP and the pump industry.
Contact Chris Hogg today on 1800 437 781.