APG Series
The APG Pumps are submersible pumps with a horizontal discharge port. They are specifically designed for the pressurised pumping of sewage and wastewater containing destructible solids. The pumps are equipped with a cutter system which cuts destructible solids into small pieces so that they can be led away through pipes of a relatively small diameter. The pumps are available with or without control box and level switch. Pumps without control box must be connected to a separate pump controller with motor starter.
Features
Applications
Curves
Tech Specs
Dimensions
Integrated cutting system (APG)
Dry or submerged installation
Installation on auto coupling
Sensors in windings
NOTE: Product information should be used as a guide only and should not be used for pump selection. For further information, please contact Malcolm Thompson Pumps on 1800 439 607.
The compact design makes these pumps suitable for both temporary and permanent installation. They are suitable for both free-standing installation and installation by means of an auto-coupling guide rail system. The APG Pumps are designed for pumping:
Sewage
Wastewater
Wastewater with high content of fibrous material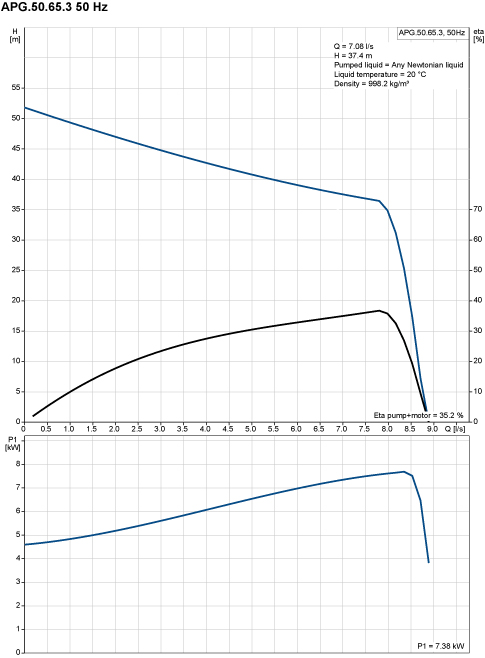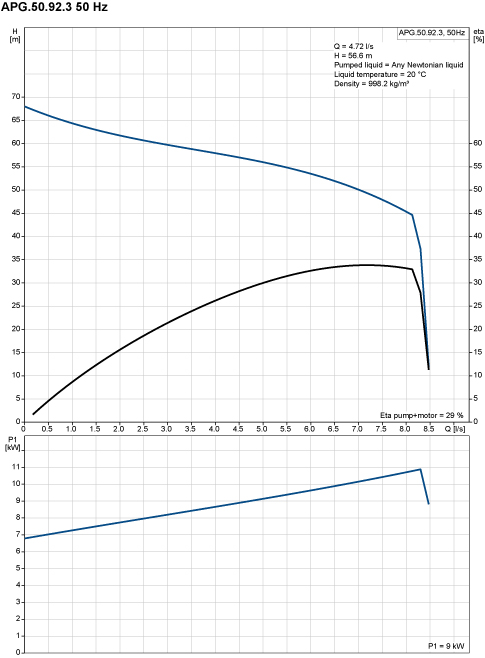 APG.50.65.3 Value  
Technical:
Actual calculated flow:
7.08 l/s
Max flow:
8.78 l/s
Resulting head of the pump:
37.4 m
Head max:
52 m
Type of impeller:
CUTTER SYSTEM
Curve tolerance:
ISO 9906:1999 Annex A
Model:
B
Materials:
Pump housing:
Cast iron
EN-JL1040
ASTM 35 B
Impeller:
Cast iron
EN-JL1040
ASTM 35 B
Installation:
Pump outlet:
DN 50
Maximum installation depth:
10 m
Inst dry/wet:
S
Installation:
vertical
Liquid:
Pumped liquid:
Any Newtonian liquid
Liquid temperature range:
0 .. 40 °C
Liquid temp:
20 °C
Density:
998.2 kg/m³
Kinematic viscosity:
1 mm2/s
Electrical data:
Power input – P1:
7.5 kW
P2:
6.5 kW
Mains frequency:
50 Hz
Rated voltage:
3 x 400 V
Rated current:
13.4 A
Cos phi – power factor:
0,81
Rated speed:
2900 rpm
Enclosure class (IEC 34-5):
IP68
Insulation class (IEC 85):
F
Motor protec:
CONTACT
Thermal protec:
external
Length of cable:
10 m
Type of cable plug:
NONE
Controls:
Control box:
not included
Others:
Net weight:
104 kg
APG.50.92.3
Technical:
Actual calculated flow:
4.72 l/s
Max flow:
8.58 l/s
Resulting head of the pump:
56.6 m
Head max:
68 m
Type of impeller:
CUTTER SYSTEM
Curve tolerance:
ISO 9906:1999 Annex A
Model:
B
Materials:
Pump housing:
Cast iron
EN-JL1040
ASTM 35 B
Impeller:
Cast iron
EN-JL1040
ASTM 35 B
Installation:
Pump outlet:
DN 50
Maximum installation depth:
10 m
Inst dry/wet:
S
Installation:
vertical
Liquid:
Pumped liquid:
Any Newtonian liquid
Liquid temperature range:
0 .. 40 °C
Liquid temp:
20 °C
Density:
998.2 kg/m³
Kinematic viscosity:
1 mm2/s
Electrical data:
Power input – P1:
11 kW
P2:
9.2 kW
Mains frequency:
50 Hz
Rated voltage:
3 x 400 V
Rated current:
19.1 A
Cos phi – power factor:
0,81
Rated speed:
2900 rpm
Enclosure class (IEC 34-5):
IP68
Insulation class (IEC 85):
F
Motor protec:
CONTACT
Thermal protec:
external
Length of cable:
10 m
Type of cable plug:
NONE
Controls:
Control box:
not included
Others:
Net weight:
116 kg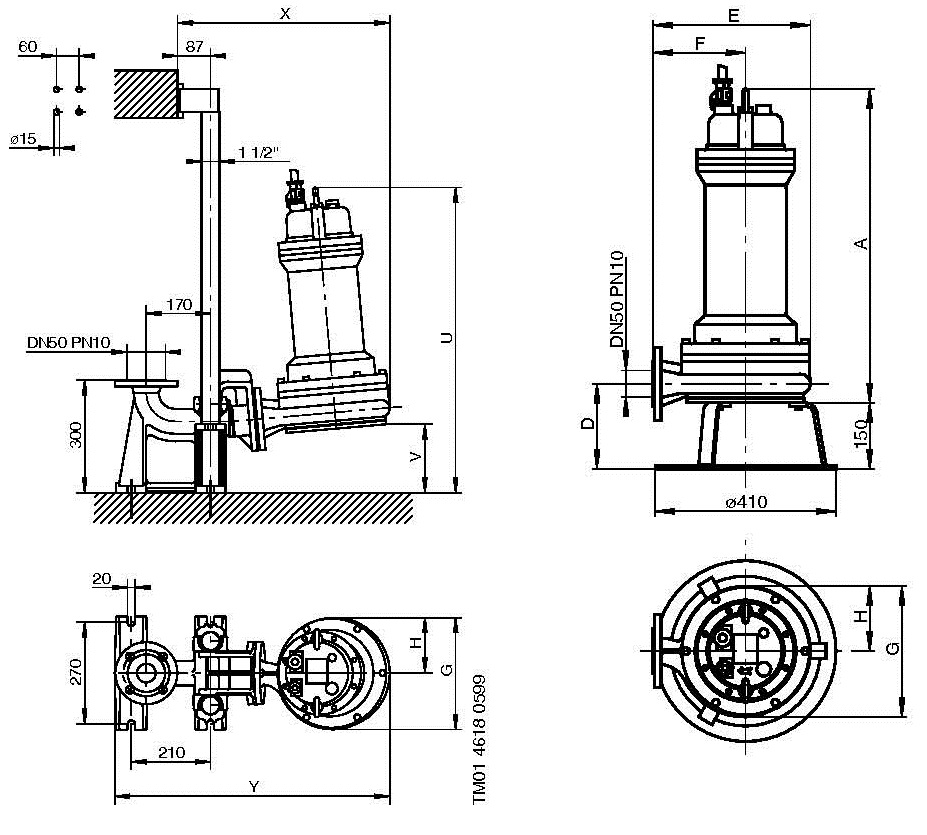 | | | | | | | | | | | |
| --- | --- | --- | --- | --- | --- | --- | --- | --- | --- | --- |
|  Pump Type   |  A   |  D   |  E   |  F   |  G   |  H   |  U   |  V   |  X   |  Y   |
|  APG.50.65.3(Ex) |  642 |  193 |  415 |  210 |  297 |  147 |  810 |  182 |  562 |  729 |
|  APG.50.92.3(Ex) |  712 |  193 |  415 |  210 |  297 |  147 |  810 |  182 |  562 |  729 |