ARS Series
The Aquaplus Submersible ARS Series Aerator bows in air with the water and is ideal for aeration applications in waste water treatment plants, sewage treatment plants, agricultural industries and the prevention of flotation or sedimentation.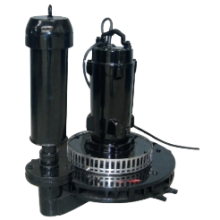 Features
Applications
Curves
Tech Specs
Dimensions
Downloads
Double mechanical seal
Produces microscope bubbles (high oxygen transfer rate)
Submersible motor, low noise, high efficiency
Twelve radiated outlets
Integrated stainless steel strainer prevents impeller from being blocked from foreign material
Large air intake
Guide rail available for easy installation, maintenance & repair
NOTE: Product information should be used as a guide only and should not be used for pump selection. For further information, please contact Malcolm Thompson Pumps on 1800 439 607.
Aeration, pre-aeration and/or mixing in
Industrial waste water treatment plants
Sewage treatment plants
Effluent in agricultural industries
Prevention of floatation or sedimentation
Part number
Discharge
(kg 0² /h)
Power
(kW)
Voltage
(V)
Cable
(m)
Max air intake (m³/h)
Min-Max Water Depth (m)
Dry Weight
(kg)
Max Solid
(mm)
ARS-40-52-1.5T4-20
2-1
1.5
415
20
30
1.0 – 3.0
104
7
ARS-50-52-2.2T4-20
3-2
2.2
415
20
40
1.0 – 4.0
117
7
ARS-65-52-3.7T4-20
5-3
3.7
415
20
80
1.0 – 4.0
132
7
ARS-65-52-5.5T4-20
9-5
5.5
415
20
128
1.0 – 4.0
279
7
ARS-80-52-7.5T4-20
13-7
7.5
415
20
170
1.5 – 4.5
286
7
ARS-80-52-11T4-20
18-8
11
415
20
265
1.5 – 4.6
340
7
ARS-100-52-15T4-20
23-10
15
415
20
330
1.5 – 4.8
355
7
ARS-100-52-18.5T4-20
29-14
18.5
415
20
385
2.0 – 5.0
405
7
ARS-100-52-22T4-20
36-19
22
415
20
470
2.0 – 5.5
420
7
ARS-150-52-30T4-20
41-21
30
415
20
510
2.0 – 6.0
1000
7
ARS-150-52-37T4-20
52-22
37
415
20
570
2.0 – 6.0
1080
7
ARS-150-52-45T4-20
62-25
45
415
20
630
2.0 – 6.0
1150
7
ARS-150-52-55T4-20
82-40
55
415
20
825
2.0 – 6.0
1200
7
Please note: No chain included
 Part Number 
 Dimensions (mm) 
 A 
 B 
 C 
 E 
 F 
 I 
 J 
 R 
 ARS-40-11-1.5T4-20
 155
 300
 505
 40
 152
 565
 597
 30
 ARS-50-11-2.2T4-20
 155
 300
 505
 50
 154
 565
 677
 30
 ARS-65-11-3.7T4-20
 155
 300
 505
 65
 156
 565
 694
 30
 ARS-65-11-5.5T4-20
 203
 410
 685
 65
 218
 745
 871
 30
 ARS-80-11-7.5T4-20
 203
 410
 685
 80
 221
 745
 874
 30
 ARS-80-11-11T4-20
 203
 410
 685
 80
 223
 745
 931
 30
 ARS-100-11-15T4-20
 203
 410
 685
 100
 225
 745
 973
 30
 ARS-100-11-18.5T4-20
 203
 410
 685
 100
 228
 745
 1097
 30
 ARS-100-11-22T4-20
 203
 410
 685
 100
 228
 745
 1097
 30
 ARS-150-11-30T4-20
 338
 600
 950
 150
 384
 1028
 1474
 39
 ARS-150-11-37T4-20
 338
 600
 950
 150
 384
 1028
 1474
 39
 ARS-150-11-45T4-20
 338
 600
 950
 150
 384
 1028
 1474
 39
 ARS-150-11-55T4-20
 338
 600
 950
 150
 384
 1028
 1474
 39