SS Series - Non Clog Pumps
The Aquaplus Non-Clog pumps are robust and reliable wastewater pumps ideal for grey water applications where water is contaminated by solid contaminants. Aquaplus Non-Clog pumps feature a dynamically balanced non-clog impeller and thermal overload protection.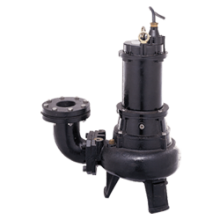 Features
Applications
Curves
Tech Specs
Dimensions
Downloads
Dynamically balanced non-clog impeller
Thermal overload protection
Triplex seal system. Double sided mechanical seals with silicon carbide faces (both top and bottom) running in an oil filled chamber, and the third oil seal isolates the motor from the sewage
Optional TOS Kit Available
NOTE: Product information should be used as a guide only and should not be used for pump selection. For further information, please contact Malcolm Thompson Pumps on 1800 355 606.
Sewage pump station
Septic system
Waste water treatment plant
Construction drainage system
Any other applications requiring the removal of sewage water
Product Disclaimer: The product information and specifications on this website should be used as a guide only. The customer is responsible for ensuring the capacity and performance of the goods are sufficient and suitable for the customer's purpose. Malcolm Thompson Pumps takes no responsibility for errors or omissions in product features or specifications.
Part  number

Discharge
(mm)
Power
(kW)
Voltage
(V)
Cable
(m)
Max flow
(L/s)
Shut-off head
(m)
Dry Weight
(kg)
Max Solid
(mm)
SS-50-52-.75T2-6M-N
50
0.75
415
6
7
10
30
25
SS-50-52-.75S2-6MP-N
50
0.75
240
6
7
10
30
25
SS-50-52-.75S2-6AP-N
50
0.75
240
6
7
10
30
25
SS-80-52-1.5T2-10M-N
80
1.5
415
10
12
14
50
28
SS-80-52-1.5S2-10MP-N
80
1.5
240
10
12
14
56
28
SS-80-52-1.5S2-10AP-N
80
1.5
240
10
12
14
56
28
SS-80-52-2.2T4-10M-N
80
2.2
415
10
21.7
14
97
40 x 50
SS-100-52-3.7T4-10M-N
100
3.7
415
10
33.3
17
97
53 x 50
SS-100-52-5.5T4-10M-N
100
5.5
415
10
38.3
23
152
88 x 46
SS-100-52-7.5T4-10M-N
100
7.5
415
10
38.3
26
172
88 x 46
SS-150-52-11T4-10M-N
150
11
415
10
75
22
253
117 x 48
SS-150-52-15T4-10M-N
150
15
415
10
83.3
30
263
117 x 48
Optional Auto Coupler Specifications
Part number
Description
Specifications
SSPTOS2
SSPTOS2 Auto Coupler
Aquaplus 50mm Auto Coupler Suits Non-Clog Pumps
SSPTOS3
SSPTOS3 Auto Coupler
Aquaplus 80mm Auto Coupler Suits Non-Clog Pumps
SSPTOS4
SSPTOS4 Auto Coupler
Aquaplus 100mm Auto Coupler Suits Non-Clog Pumps
SSPTOS4L
SSPTOS4L Auto Coupler
Aquaplus 100mm L Auto Coupler Suits 5.5kW And 7.5kW Non-Clog Pumps
SSPTOS6
SSPTOS6 Auto Coupler
Aquaplus 150mm Auto Coupler Suits Non-Clog Pumps
Pump Dimensions
                                                 Diagram 1                                                                                          Diagram 2
Diagram 1 = All models excluding 
SS-50-52-.75T2-6M-N and 
SS-50-52-.75S2-6MP-N
Diagram 2 = 
SS-50-52-.75T2-6M-N and 
SS-50-52-.75S2-6MP-N Models
| | | | | | | | |
| --- | --- | --- | --- | --- | --- | --- | --- |
| Model | A | B | C | D | E | F | G |
| SS-50-52-.75T2-6M-N | 518 | 413 | 212 | 265 | 122 | 523 | 473 |
| SS-50-52-.75S2-6MP-N | 518 | 413 | 212 | 265 | 122 | 523 | 473 |
| SS-50-52-.75S2-6AP-N | 518 | 413 | 212 | 265 | 122 | 523 | 473 |
| SS-80-52-1.5T2-10M-N | 518 | 413 | 212 | 265 | 122 | 420 | 372 |
| SS-80-52-1.5S2-10MP-N | 518 | 413 | 212 | 265 | 122 | 420 | 372 |
| SS-80-52-1.5S2-10AP-N | 518 | 413 | 212 | 265 | 122 | 420 | 372 |
| SS-80-52-2.2T4-10M-N | 580 | 475 | 311 | 177 | 276 | 715 | 627 |
| SS-100-52-3.7T4-10M-N | 580 | 475 | 311 | 177 | 276 | 740 | 652 |
| SS-100-52-5.5T4-10M-N | 681 | 576 | 385 | 188 | 288 | 797 | 715 |
| SS-100-52-7.5T4-10M-N | 681 | 576 | 385 | 188 | 288 | 818 | 736 |
| SS-150-52-11T4-10M-N | 880 | 740 | 491 | 200 | 311 | 817 | 789 |
| SS-150-52-15T4-10M-N | 880 | 740 | 491 | 200 | 311 | 901 | 819 |
Pump and Optional TOS Kit Dimensions
Diagram 1 Diagram 2
                                                 Diagram 1                                                                                          Diagram 2

Diagram 1 = All models excluding SS-50-52-.75T2-6M-N and SS-50-52-.75S2-6MP-N
Diagram 2 = SS-50-52-.75T2-6M-N and SS-50-52-.75S2-6MP-N Models
| | | | | | | | | | | | | | |
| --- | --- | --- | --- | --- | --- | --- | --- | --- | --- | --- | --- | --- | --- |
| Model | A | B | C | D | E | F | G | H | I | J | K | L | M |
| SS-50-52-.75T2-6M-N | 584 | 309 | 190 | 78 | 128 | 419 | 465 | 260 | 50 | 120 | 155 | 46 | 46 |
| SS-50-52-.75S2-6MP-N | 584 | 309 | 190 | 78 | 128 | 419 | 465 | 260 | 50 | 120 | 155 | 46 | 46 |
| SS-50-52-.75S2-6AP-N | 584 | 309 | 190 | 78 | 128 | 419 | 465 | 260 | 50 | 120 | 155 | 46 | 46 |
| SS-80-52-1.5T2-10M-N | 693 | 303 | 212 | 140 | 217 | 568 | 618 | 256 | 80 | 175 | 210 | 60 | 60 |
| SS-80-52-1.5S2-10MP-N | 693 | 303 | 212 | 140 | 217 | 568 | 618 | 256 | 80 | 175 | 210 | 60 | 60 |
| SS-80-52-1.5S2-10AP-N | 693 | 303 | 212 | 140 | 217 | 568 | 618 | 256 | 80 | 175 | 210 | 60 | 60 |
| SS-80-52-2.2T4-10M-N | 755 | 365 | 311 | 116 | 282 | 633 | 721 | 270 | 80 | 175 | 210 | 60 | 60 |
| SS-100-52-3.7T4-10M-N | 755 | 365 | 311 | 116 | 282 | 658 | 746 | 270 | 100 | 175 | 210 | 60 | 60 |
| SS-100-52-5.5T4-10M-N | 899 | 430 | 385 | 116 | 274 | 721 | 803 | 330 | 100 | 175 | 210 | 89 | 89 |
| SS-100-52-7.5T4-10M-N | 899 | 430 | 385 | 116 | 274 | 742 | 824 | 330 | 100 | 175 | 210 | 89 | 89 |
| SS-150-52-11T4-10M-N | 1019 | 623 | 491 | 215 | 416 | 894 | 976 | 427 | 150 | 240 | 310 | 46 | 46 |
| SS-150-52-15T4-10M-N | 1019 | 623 | 491 | 215 | 416 | 924 | 1006 | 427 | 150 | 240 | 310 | 46 | 46 |
| | N | O | P | Q | R | S | T | U | V | W | X | Y | Z |
| SS-50-52-.75T2-6M-N | 121 | 209 | 33 | 12 | 239 | 365 | 311 | 188 | 70 | 40 | 109 | 140 | 198 |
| SS-50-52-.75S2-6MP-N | 121 | 209 | 33 | 12 | 239 | 365 | 211 | 188 | 70 | 40 | 109 | 140 | 198 |
| SS-50-52-.75S2-6AP-N | 121 | 209 | 33 | 12 | 239 | 365 | 211 | 188 | 70 | 40 | 109 | 140 | 198 |
| SS-80-52-1.5T2-10M-N | 155 | 250 | 15 | 17 | 240 | 290 | 234 | 195 | 80 | 66 | 170 | 220 | 285 |
| SS-80-52-1.5S2-10MP-N | 155 | 250 | 15 | 17 | 240 | 290 | 234 | 195 | 80 | 66 | 170 | 220 | 285 |
| SS-80-52-1.5S2-10AP-N | 155 | 250 | 15 | 17 | 240 | 290 | 234 | 195 | 80 | 66 | 170 | 220 | 285 |
| SS-80-52-2.2T4-10M-N | 155 | 250 | 15 | 17 | 240 | 290 | 234 | 195 | 80 | 66 | 170 | 220 | 285 |
| SS-100-52-3.7T4-10M-N | 155 | 250 | 15 | 17 | 240 | 290 | 234 | 195 | 80 | 66 | 170 | 220 | 285 |
| SS-100-52-5.5T4-10M-N | 188 | 295 | 27 | 17 | 265 | 323 | 298 | 249 | 100 | 60 | 220 | 270 | 364 |
| SS-100-52-7.5T4-10M-N | 188 | 295 | 27 | 17 | 265 | 323 | 298 | 249 | 100 | 60 | 220 | 270 | 364 |
| SS-150-52-11T4-10M-N | 202 | 340 | 38 | 20 | 404 | 480 | 300 | 255 | 150 | 60 | 238 | 348 | 356 |
| SS-150-52-15T4-10M-N | 202 | 340 | 38 | 20 | 404 | 480 | 300 | 255 | 150 | 60 | 238 | 348 | 356 |
TOS Dimensions in mm