CM Booster Series
The Grundfos CM Booster is a horizontal multistage centrifugal pump designed for domestic and light industrial applications. It is suitable for pressure boosting from above ground rainwater tanks or from mains water.
The Grundfos CM Booster with Pressure Manager is a compact booster pump for water supply in domestic applications. The Pressure Manager allows the pump to start and stop automatically according to demand and protects the pump from dry running. Coupled with Pressure Manager, the CM Booster provides reliable pressure boosting and water supply while minimising annoying shower temperature fluctuations
The CM Booster is very easy to install. When the booster has been connected to the pipework, it is all a matter of plugging the socket.
Features
Applications
Curves
Tech Specs
Dimensions
Brochure
Compact
Easy installation
Robust construction
Generator friendly
Dry-running protection
Anti cycling (leakage detection)
NOTE: Product information should be used as a guide only and should not be used for pump selection. For further information, please contact Malcolm Thompson Pumps on 1800 439 607.
Pressure Boosting for domestic and light industrial applications.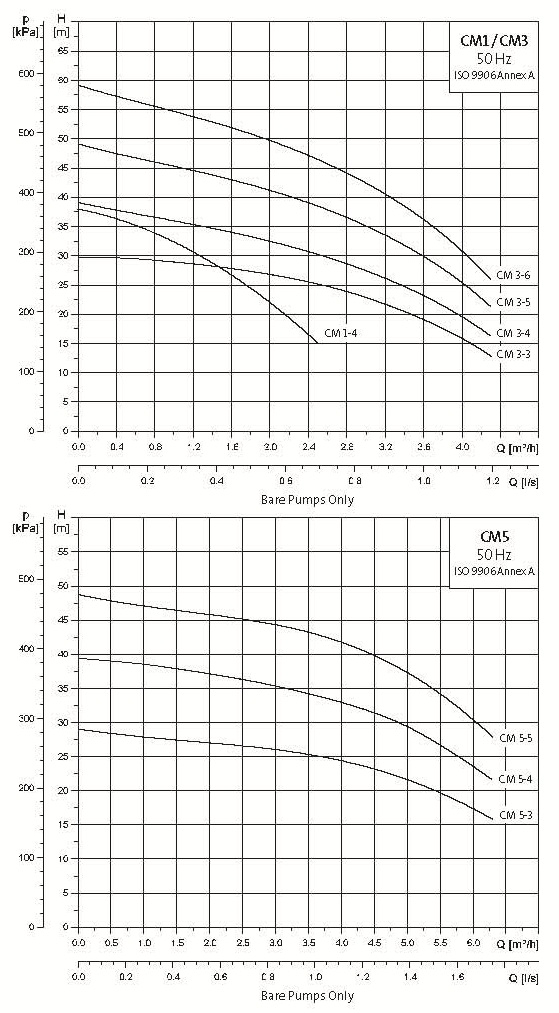 | | | | | | | | | |
| --- | --- | --- | --- | --- | --- | --- | --- | --- |
| Model | p2 (kW) | 1phln (a) | Water temp | Connection size Inlet (a2) | Connection size Outlet (a1) | Control | Weight (kg) | CH equivalent |
| CMB 1-4 | 0.5 | 3.1 | 0/40°C | 1"f | 1"M | PM1 | 13.8 | CH2-30PC |
| CMB 3-3 | 0.5 | 3.1 | 0/40°C | 1"f | 1"M | PM2 | 13.6 | CH2-40PC |
| CMB 3-4 | 0.5 | 3.1 | 0/40°C | 1"f | 1"M | PM2 | 14 | CH2-50PC |
| CMB 3-5 | 0.5 | 3.1 | 0/40°C | 1"f | 1"M | PM2 | 14.4 | CH2-60PC |
| CMB 3-6 | 0.67 | 4.4 | 0/40°C | 1"f | 1"M | PM2 | 16.34 | CH2-60PC |
| CMB 5-3 | 0.5 | 3.1 | 0/40°C | 1¼"f | 1"M | PM2 | 13.6 | CH4-40PC |
| CMB 5-4 | 0.67 | 4.4 | 0/40°C | 1¼"f | 1"M | PM2 | 15.3 | CH4-50PC |
| CMB 5-5 | 0.9 | 5.4 | 0/40°C | 1¼"f | 1"M | PM2 | 16.8 | CH4-60PC |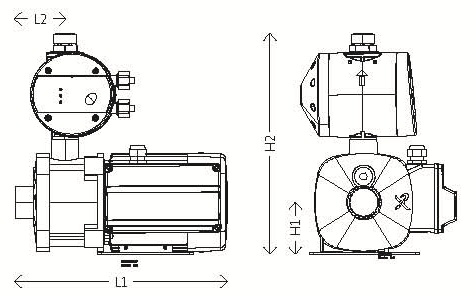 | | | | | | |
| --- | --- | --- | --- | --- | --- |
| Model Number | L1 | L2 (centre of pm to outlet) | H2 | H1 | B2 (bolt hole centres) |
| CMB 1-4 | 323 | 89.5 | 317 | 75 | 125 |
| CMB 3-3 | 5.5 | 71.5 | 317 | 75 | 125 |
| CMB 3-4 | 323 | 89.5 | 317 | 75 | 125 |
| CMB 3-5 | 341 | 107.5 | 317 | 75 | 125 |
| CMB 3-6 | 417 | 143.5 | 317 | 75 | 125 |
| CMB 5-3 | 305 | 71.5 | 317 | 75 | 125 |
| CMB 5-4 | 363 | 89.5 | 317 | 75 | 125 |
| CMB 5-5 | 381 | 107.5 | 317 | 75 | 125 |