DDA Series Dosing Pump
DDA is a Grundfos digital dosing pump for complex and demanding applications where the focus is on maximum process reliability. The intuitive graphical user interface gives you easy access to a wide range of highly advanced functions and features. With a powerful variable-speed stepper motor and a turn-down ratio of up to 1:3000, the DDA dosing pump ensures smooth, continuous and ultra-precise dosing in any application that requires chemical treatment and/or conditioning of media.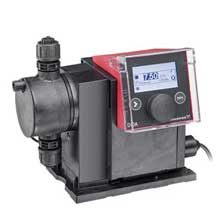 Features
Applications
Tech Specs
Downloads
DDA-FC and DDA-FCM feature the FlowControl system, which detects overpressure, line bursts and air bubbles in the dosing head and suction-side cavitation.
With the built-in dosing timer, you can set up batch dosing either as a simple repeating cycle or for up to 16 procedures over the course of a week.
The automatic deaeration function stops air bubbles from building in the dosing head so your dosing process does not stop due to air-locking.
DDA-FCM features FLOWADAPT, which ensures that your dosing accuracy is maintained even when system pressure fluctuates.
Commercial water disinfection
Biofuel
Bottle washing
CIP/SIP
Cooling
Desalination
Leach mining
Painting systems
Wash and clean
Temperature control
Industrial boiler systems
Industrial heating
Industrial water supply
Industrial water treatment
Industrial wastewater
Water reuse
Drinking water treatment
Wastewater treatment
Fertigation & Chemigation
Max flow: 200 l/h
Head max: 16 bar
Liquid temperature: -10 .. 50 °C
p max: 16 bar