EF Series Sewer Pumps
The Grundfos EF range of pumps are designed for pumping drainage and surface water and wastewater with small impurities from installations in or around housing, farms and small industry.
Designed for use free-standing or for installation on an auto-coupling system, these pumps are fitted with an integrated three-leg stand that keeps the suction inlet well clear of the pit bottom. The EF pumps are capable of handling solids of up to 30 mm size.
Features
Applications
Curves
Tech Specs
Brochure
Ergonomic lift handle
The ergonomic lift handle is designed for optimum pointof-balance and, with the motor unit 180º rotatable on the pump housing, will protect the auto-coupling sealing.
Watertight cable plug
The polyurethane-filled stainless steel cable plug connection ensures a watertight and durable seal around the leads of the cable. Adverse handling and even breakage will not result in water getting to the motor. Simply pull out the plug when servicing the pump, without special tools or risk of compromising the seal, and this will save you money over time.
Thermal switches and motor protection
Thermal switches in the motor windings provide protection against overheating, ensuring a long lifetime. In addition, AUTOADAPT versions have built-in motor protection
Stainless steel clamp
This unique clamp assembly system ensures quick and easy disassembly of the pump from the motor unit, where loosening the stainless steel clamp requires no special tools. This means quick and easy service in the field, where you don't need to clean the casing to get to the bolts.
Cartridge shaft seal
The efficient double cartridge shaft seal system ensures longer operation time with less downtime, and is easily accessible.
Patented SmartTrim impeller adjustment
Inevitably, the highly efficient impeller will get worn. The patented SmartTrim system enables extremely easy adjustment, service and optimisation of the impeller when necessary to maintain peak performance and this can be done without dismantling the pump. No special tools are required.
Ideal wherever wastewater removal is required, such as:
Farms
Private housing
Commercial buildings
Small industry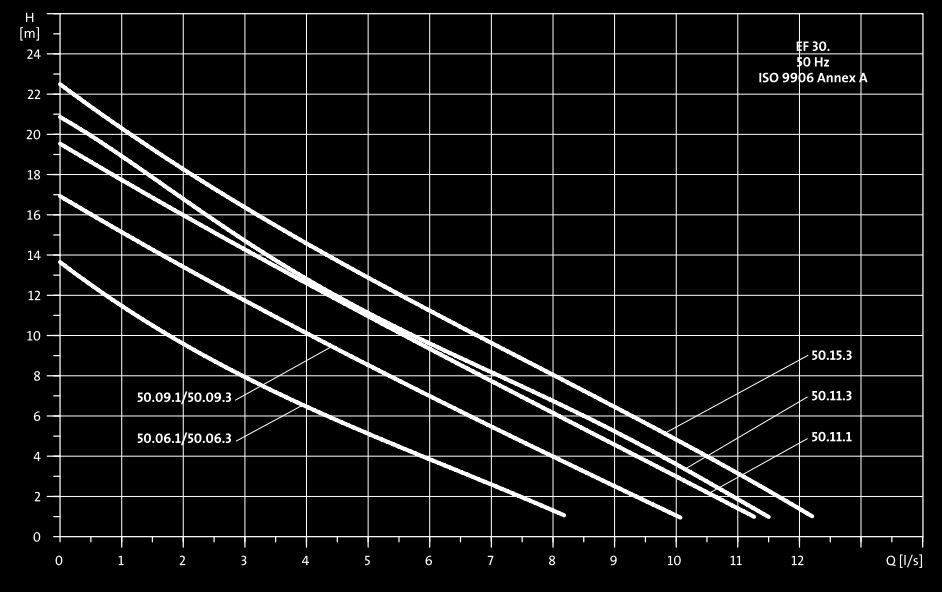 | | | | | | | | | |
| --- | --- | --- | --- | --- | --- | --- | --- | --- |
| Product Name  | Product No | Max flow | Head max | Type of impeller | Maximum particle size | Primary shaft seal | Secondary shaft seal | Max. hydraulic efficiency |
| EF30.50.06.E.EX.2.1.502 | 96877512 | 9 l/s | 13.6 m | SEMI OPEN | 30 mm | SIC/SIC | LIPSEAL | 63% |
| EF30.50.06.E.EX.2.50B | 96877514 | 9.11 l/s | 13.7 m | SEMI OPEN | 30 mm | SIC/SIC | LIPSEAL | 60% |
| EF30.50.06.EX.2.1.502 | 96106549 | 9 l/s | 13.6 m | SEMI OPEN | 30 mm | SIC/SIC | LIP SEAL, NBR | 63% |
| EF30.50.06.EX.2.50B | 96106553 | 9.11 l/s | 13.7 m | SEMI OPEN | 30 mm | SIC/SIC | LIP SEAL, NBR | 60% |
| EF30.50.09.E.EX.2.1.502 | 96877518 | 10.8 l/s | 16.8 m | SEMI OPEN | 30 mm | SIC/SIC | LIPSEAL | 60% |
| EF30.50.09.E.EX.2.50B | 96877532 | 10.8 l/s | 16.8 m | SEMI OPEN | 30 mm | SIC/SIC | LIPSEAL | 59% |
| EF30.50.09.EX.2.1.502 | 96115114 | 10.8 l/s | 16.8 m | SEMI OPEN | 30 mm | SIC/SIC | LIP SEAL, NBR | 60% |
| EF30.50.09.EX.2.50B | 96115118 | 10.9 l/s | 16.8 m | SEMI OPEN | 30 mm | SIC/SIC | LIP SEAL, NBR | 59% |
| EF30.50.11.E.EX.2.50B | 96878447 | 12.3 l/s | 20.9 m | SEMI OPEN | 30 mm | SIC/SIC | LIPSEAL | 63% |
| EF30.50.11.EX.2.50B | 96106561 | 12.3 l/s | 20.9 m | SEMI OPEN | 30 mm | SIC/SIC | LIP SEAL, NBR | 63% |
| EF30.50.15.E.EX.2.50B | 96878449 | 12.9 l/s | 22.5 m | SEMI OPEN | 30 mm | SIC/SIC | LIPSEAL | 64% |