EM Series Metal Pumps
The ABEL EM series (Electromechanical Membrane Pumps) Metal Pumps are suitable for applications that require low pressure. Its design is compact which does not require hydraulic fluid, and it can be equipped to provide the performance required by each specific application.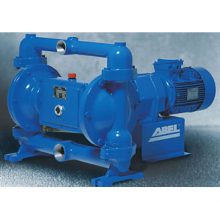 Features
Applications
Downloads
The EM series pumps incorporate the sealless, dry-running, low shear, versatile fluid handling capability of traditional diaphragm pump design with added value including:
• Highly efficient electric drive
• Constant flow rates against variable pressure and viscosity
• Up to 6" Port size for maximum flow rate
• Fully enclosed membranes – with no material exposure
• Optional VFD flow control for true process performance
• Optional pulsation dampeners and other accessories
BENEFITS
• Up to a maximum of 0.8 MPa/120 psi
• Compact design
• Low energy consumption
NOTE: Product information should be used as a guide only and should not be used for pump selection. For further information, please contact Malcolm Thompson Pumps on 1800 355 606.
Water and Waste Water management
Ceramics Industry
Surface engineering
Marble and stone works
Shipping, offshore
Automobile Industry
Machine Construction
Pigment production
Paper Industry
Mining Applications
Paint and lacquer Industry
Steel Industry