ETN Series
CDR Pumps' ETN-L is a close coupled magnetically driven centrifugal pump. The series is available in either Polypropylene (PP) or Ethylene Tetrafluoroethylene (ETFE) lined wet-end components, across the ETN-L 50, ETN-L 60 and ETN-L 70.
The ETN Pump Series is easy to maintain due to the simplified design and absence of any rotating sealing parts. Downtime is reduced to an absolute minimum.
This magnetic drive pump series is constructed mainly with polypropylene while at the same time using superior corrosion-resistant parts, which is suitable to transfer strong acids and various other chemicals.
While originally designed for tanker loading and unloading applications, technical advances have seen this series develop into a true chemical process pump.  The series provides strong hydraulic and technical characteristics and is widely known in the industry to be a true 'work horse'.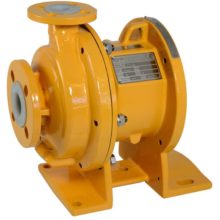 Features
Applications
Curves
Tech Specs
Downloads
Zero leakage
Excellent chemical resistance
Easy maintenance
Chemical and petrochemical
Photographic and x-ray processing
Medical
Galvanising
Electroplating
Anodising
Etching
Fertiliser plants
Water treatment
Food and beverage
Refrigeration
Aquaculture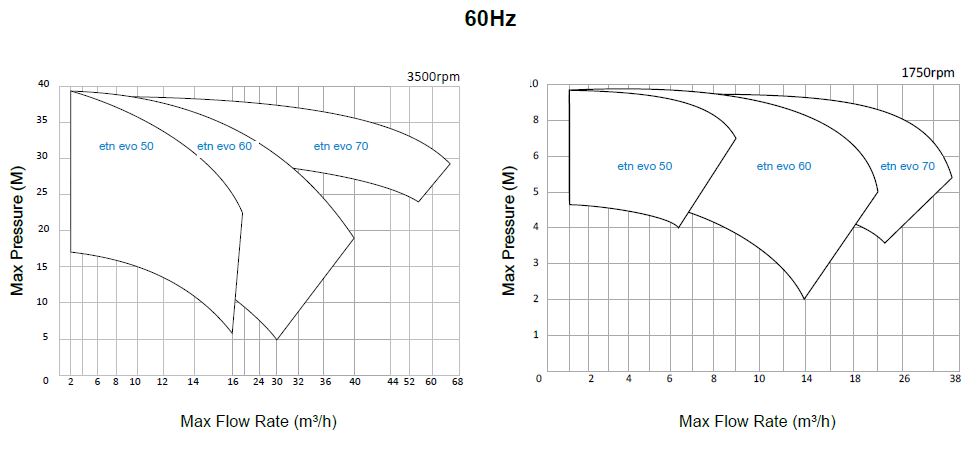 Part Number
Suction (mm)
Discharge (mm)
Pump Material type
Power (kW)
Motor Poles
Max Flow rate (M3/Hr)
Max Pressure (M)
MAGETN50 PP
50
32
PP+GF/FPM/PTFE-AI2O3/AI2O3
0.55
4
9
8.25
0.75
2
13
18
1.1
2
15
24
1.5
2
15.5
27
2.2
2
18
33
3
2
18
33
MAGETN60 PP
50
32
PP+GF/FPM/PTFE-AI2O3/AI2O3
0.55
4
9
8.25
0.75
4
13
18
2.2
2
15
24
3
2
15.5
27
4
2
18
33
5.5
2
18
33
MAGETN50 ETFE
50
32
CFR-ETFE/FPM/PTFE-AI2O3/AI2O3
0.55
4
19
8.5
0.75
2
19
8.5
1.1
2
32
23
1.5
2
36
28
2.2
2
38.5
34
3
2
38.5
34
MAGETN60 ETFE
50
32
CFR-ETFE/FPM/PTFE-AI2O3/AI2O3
0.55
4
19
8.5
0.75
4
19
8.5
2.2
2
32
23
3
2
36
28
4
2
38.5
34
5.5
2
38.5
34
MAGETN70 ETFE
50
32
CFR-ETFE/FPM/PTFE-AI2O3/AI2O3
0.55
4
32
6.25
0.75
4
35
7
1.1
4
35
7
3
2
58
20
4
2
61
22
5.5
2
70
28
7.5
2
70
28