Gamma L
Prominent's Gamma L series of solenoid driven diaphragm metering pumps satisfies the most demanding requirements: varied adjustment and activation options for standalone applications or use in complex bus-networked systems.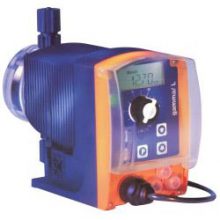 Features
Applications
Tech Specs
Capacity range 0.74 – 32 litres/hour,16-2 bar
Continuous stroke length adjustment from 0 – 100% (recommended 30 to100%)
Material options PP, PVC, acrylic PVC,PTFE, PVDF and stainless steel
Digitally accurate stroking rate via keypad and large LCD display
Adjustment and display of pump delivery from the keypad with choice of display in litres/hour or strokes/minutes
Programmable pressure levels
Dosing monitor input, adjustable error stroke counter
External control via volt-free contact with optional pulse multiply/divide function
Optional external control via standard signal 0/4-20mA
Two level float switch connectors
NOTE: Product information should be used as a guide only and should not be used for pump selection. For further information, please contact Malcolm Thompson Pumps on 1800 439 607.
Project requiring high levels of dosing precision and reproduction
Chemical industry
Research and development
Food and beverage industry
Wastewater management
Part number
Max pump capacity at max back pressure
Max pump capacity at medium back pressure
Stroke frequency (strokes/ min)
Connector sizes outer Ø x inner Ø (mm)
Suction lift* (mWC)
Power supply
Delivery weight (kg)
(bar)
(L/hr)
(mL/ stroke)
(bar)
(L/hr)
(mL/ stroke)
GALa1000PPE000UC010000
10
0.74
0.07
5
0.82
0.08
180
6 x 4
6
100 – 230 Volt, ± 10%, 50/60Hz
2.9
GALa1601PPE000UC010000
16
1.1
0.1
8
1.4
0.13
180
6 x 4
6
100 – 230 Volt, ± 10%, 50/60Hz
2.9
GALa1005PPE000UC010000
10
4.4
0.41
5
5
0.46
180
8 x 5
6
100 – 230 Volt, ± 10%, 50/60Hz
3.1
GALa0708PPE000UC010000
7
7.1
0.66
3.5
8.4
0.78
180
8 x 5
6
100 – 230 Volt, ± 10%, 50/60Hz
3.1
GALa0420PPE000UC010000
4
17.1
1.58
2
19.1
1.77
180
12 x 9
3
100 – 230 Volt, ± 10%, 50/60Hz
4.7
GALa0232PPE000UC010000
2
32
2.96
1
36.2
3.35
180
12 x 9
2
100 – 230 Volt, ± 10%, 50/60Hz
5.1
* Suction lift readings when liquid end and suction tubing are full, or for self-degassing liquid end when the suction tubing contains air