Hydro Multi B Pressure Booster Pump System
The Hydro Multi-B pressure boosting system is a unique combination of compact efficient variable speed multistage pumps and simple user interface.
Due to the simplicity of the CU 323 controller unit, all daily operations can be handled in a safe and simple manner, which makes the system ideal for water supply in most applications that fit within the performance range of the Multi-B pump system.
Features
Applications
Tech Specs
Dimensions
Brochure
Compact and designed to last

The high quality components and the design of the Hydro Multi-B booster system have been chosen with a focus on sturdiness and compactness. As a result, the user gets the benefits of a complete solution, with components optimized for domestic water pressure boosting.
Reliability

The CM pump has high reliability built-in. Clamping of the pumps impeller has been greatly improved by implementing a new stop ring to form a well-defined base.

Combining this feature with a Nordlock© washer at the other end of the pump stack creates a robust and reliable design.
Ready… Set… Pump!
Before leaving the factory, every unit is completely assembled and thoroughly tested and inspected. This means that when customers receive their Multi-B booster system, it is only a matter of plugging it in and starting it up.
Large complexes such as schools and office buildings
Multi-storey buildings
When redundant pumping is needed
No. of pumps
Pump type
Motor
(hp)
Voltage
(V)
FLA (Amps)
U1 / U2 / U3
2
CME 3-3
1.5
U1
13.1
CME 3-5
1.5
U1
13.1
3
CME 3-3
1.5
U1
19.7
CME 3-5
1.5
U1
19.7
No. of pumps
Pump type
Motor
(hp)
Voltage
(V)
FLA (Amps)
U1 / U2 / U3
2
CME 5-3
1.5
U1
13.1
CME 5-4
2
U1,U2,U3
17.8 / 11.2 / 5.8
CME 5-5
2
U3
17.8 / 11.2 / 5.8
CME 5-3
1.5
U1
19.7
CME 5-4
2
U1,U2,U3
26.7 / 16.8 / 8.7
CME 5-5
2
U3
26.7 / 16.8 / 8.7
No. of pumps
Pump type
Motor
(hp)
Voltage
(V)
FLA (Amps)
U1 / U2 / U3
2
CME 10-1
1.5
U1
13.1
CME 10-2
3
U2,U3
16.6 / 8.5
CME 10-3
5
U2,U3
26.8 / 12.2
3
CME 10-1
1.5
U1
19.7
CME 10-2
3
U2,U3
24.9 / 12.75
CME 10-3
5
U2,U3
40.2 / 18.3
No. of pumps
Pump type
Motor
(hp)
Voltage
(V)
FLA (Amps)
U1 / U2 / U3
2
CME 15-1
3
U2,U3
16.6 / 8.5
CME 15-2
5
U2,U3
26.8 / 12.2
CME 15-3
7.5
U2,U3
39.4 / 17.8
3
CME 15-1
3
U2,U3
24.9 / 12.75
CME 15-2
5
U2,U3
40.2 / 18.3
CME 15-3
7.5
U2,U3
59.1 / 26.7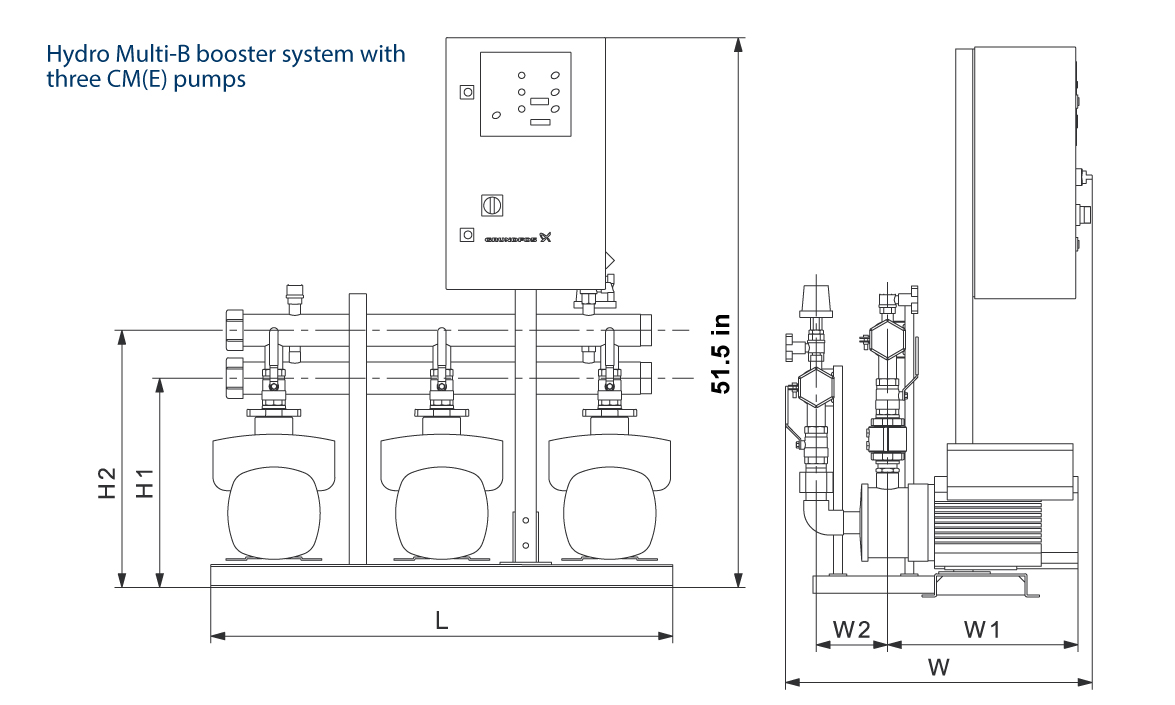 View Full Size Grundfos Multi-B Dimensional Image
Connection
size (in)
L
mm (in)
W
mm (in)
W1
mm (in)
W2
mm (in)
H1
mm (in)
H2
mm (in)
Tank
L (gal)
Weight
kg (lb)
2″ NPT
701 (27.6)
660 (26)
274 (10.8)
180 (7.1)
447 (17.6)
561 (22.1)
16.6 (4.4)
97 (214)
701 (27.6)
663 (26.1)
274 (10.8)
178 (7)
447 (17.6)
561 (22.1)
16.6 (4.4)
98 (216)
2″ NPT
1010 (43.3)
612 (24.1)
274 (10.8)
142 (5.6)
447 (17.6)
561 (22.1)
16.6 (4.4)
140 (309)
1010 (43.3)
632 (24.9)
274 (10.8)
178 (7)
447 (17.6)
561 (22.1)
16.6 (4.4)
142 (313)
Connection
size (in)
L
mm (in)
W
mm (in)
W1
mm (in)
W2
mm (in)
H1
mm (in)
H2
mm (in)
Tank
L (gal)
Weight
kg (lb)
2″ NPT
701 (27.6)
643 (25.3)
274 (10.8)
147 (5.8)
462 (18.2)
574 (22.6)
16.6 (4.4)
103 (227)
701 (27.6)
663 (26.1)
323 (12.7)
152 (6)
485 (19.1)
599 (23.6)
16.6 (4.4)
127 (280)
701 (27.6)
676 (26.6)
323 (12.7)
170 (6.7)
485 (19.1)
599 (23.6)
16.6 (4.4)
136 (300)
2″ NPT
1010 (43.3)
582 (22.9)
274 (10.8)
147 (5.8)
462 (18.2)
574 (22.6)
16.6 (4.4)
148 (326)
1010 (43.3)
617 (24.3)
323 (12.7)
152 (6)
485 (19.1)
599 (23.6)
16.6 (4.4)
158 (408)
1010 (43.3)
671 (26.4)
323 (12.7)
170 (6.7)
485 (19.1)
599 (23.6)
16.6 (4.4)
201 (443)
Connection
size (in)
L
mm (in)
W
mm (in)
W1
mm (in)
W2
mm (in)
H1
mm (in)
H2
mm (in)
Tank
L (gal)
Weight
kg (lb)
2.5″ NPT
701 (27.6)
658 (25.9)
295 (11.6)
114 (4.5)
544 (21.4)
673 (26.5)
39 (10.3)
150 (331)
701 (27.6)
658 (25.9)
286 (15.2)
145 (5.7)
551 (21.7)
681 (26.8)
39 (10.3)
155 (342)
701 (27.6)
696 (27.4)
455 (17.9)
175 (6.9)
564 (22.2)
693 (27.3)
39 (10.3)
197 (434)
2.5″ NPT
1010 (43.3)
658 (25.9)
295 (11.6)
114 (4.5)
544 (21.4)
673 (26.5)
39 (10.3)
221 (487)
1010 (43.3)
658 (25.9)
386 (15.2)
145 (5.7)
551 (21.7)
681 (26.8)
39 (10.3)
226 (498)
1010 (43.3)
696 (27.4)
455 (17.9)
175 (6.9)
564 (22.2)
693 (27.3)
39 (10.3)
290 (639)
Connection
size (in)
L
mm (in)
W
mm (in)
W1
mm (in)
W2
mm (in)
H1
mm (in)
H2
mm (in)
Tank
L (gal)
Weight
kg (lb)
3″ ANSI
701 (27.6)
742 (29.2)
386 (15.2)
152 (6)
582 (22.9)
759 (29.9)
39 (10.3)
214 (472)
701 (27.6)
742 (29.2)
455 (17.9)
152 (6)
592 (23.3)
772 (30.4)
39 (10.3)
219 (483)
701 (27.6)
742 (29.2)
455 (17.9)
183 (7.2)
592 (23.3)
772 (30.4)
39 (10.3)
228 (503)
4″ ANSI
1010 (43.3)
752 (29.6)
386 (15.2)
152 (6)
594 (23.4)
772 (30.4)
39 (10.3)
290 (639)
1010 (43.3)
752 (29.6)
455 (17.9)
152 (6)
607 (23.9)
785 (30.9)
39 (10.3)
295 (650)
1010 (43.3)
752 (29.6)
455 (17.9)
183 (7.2)
607 (23.9)
785 (30.9)
39 (10.3)
309 (681)