ISO Series Pumps – Hydraulic Driven
The Stalker Pumps ISO Hydraulic Driven Series includes the ISO 4600, 4700, 6300, 6400 and 7000 ranges. The Stalker Pumps ISO Hydraulic Driven Series are manufactured in Western Australia to the highest quality standards, employing the best engineering practices available.
The Stalker ISO Hydraulic Driven Series of pumps are available in a range of casing and impeller materials, including cast iron, stainless steel and zinc-free bronze.
The range features a 2 bolt SAE flange mounted easy on/off hydraulic motor with a quick coupling arrangement, allowing for fast and simple motor mounting and replacement, eliminating down time due to having to align the couplings correctly.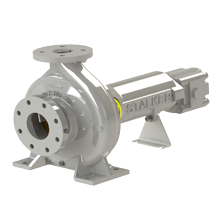 Features
Applications
Curves
Tech Specs
No coupling drive, eliminating the need to carry couplings in stock or have a specialist on hand to align them.
Smaller footprint – approximately 200mm smaller in length than standard ISO configurations.
Casing – Standard cast iron AS1830 T260 grade. Alternative options:
– Austenitic iron AS1833 203
– Stainless steel AS2074/H6B
– Ceramic coating
Mounting feet are incorporated into the casing casting.
Flanges – Dimensions are to AS2129 table E as standard, optional ANSI and DIN flanges available on request.
Impeller – Standard cast iron AS1830 T260 grade. Alternative material options, 316 stainless steel and zinc-free bronze, also available.
Mechanical Seals: Standard Carbon/Ceramic/Nitrile. Further options available on request.
Bearings – Heavy duty deep groove ball bearings. Greasable and fitted with grease nipples. Available as sealed for life, or running in oil filled housing. Bearing housing is fitted with breather, oil level and drain plugs. Optional constant level oilers and oil cooling also available.
Bearing Pedestal – Hydraulic close-coupled pedestal is a version of the Stalker standard ISO bearing pedestal, which provides interchangeability of bearings and lip seals between standard ISO and the Hydraulic version.
2 Bolt SAE Flange Mounted easy on/off Hydraulic Motor.
Spline Shaft Drive Arrangement – enables even distribution of shaft loading and power transfer, eliminating axial load transfer to motor shaft, elongating motor life.
Ideally suited for use on Water Cart Trucks.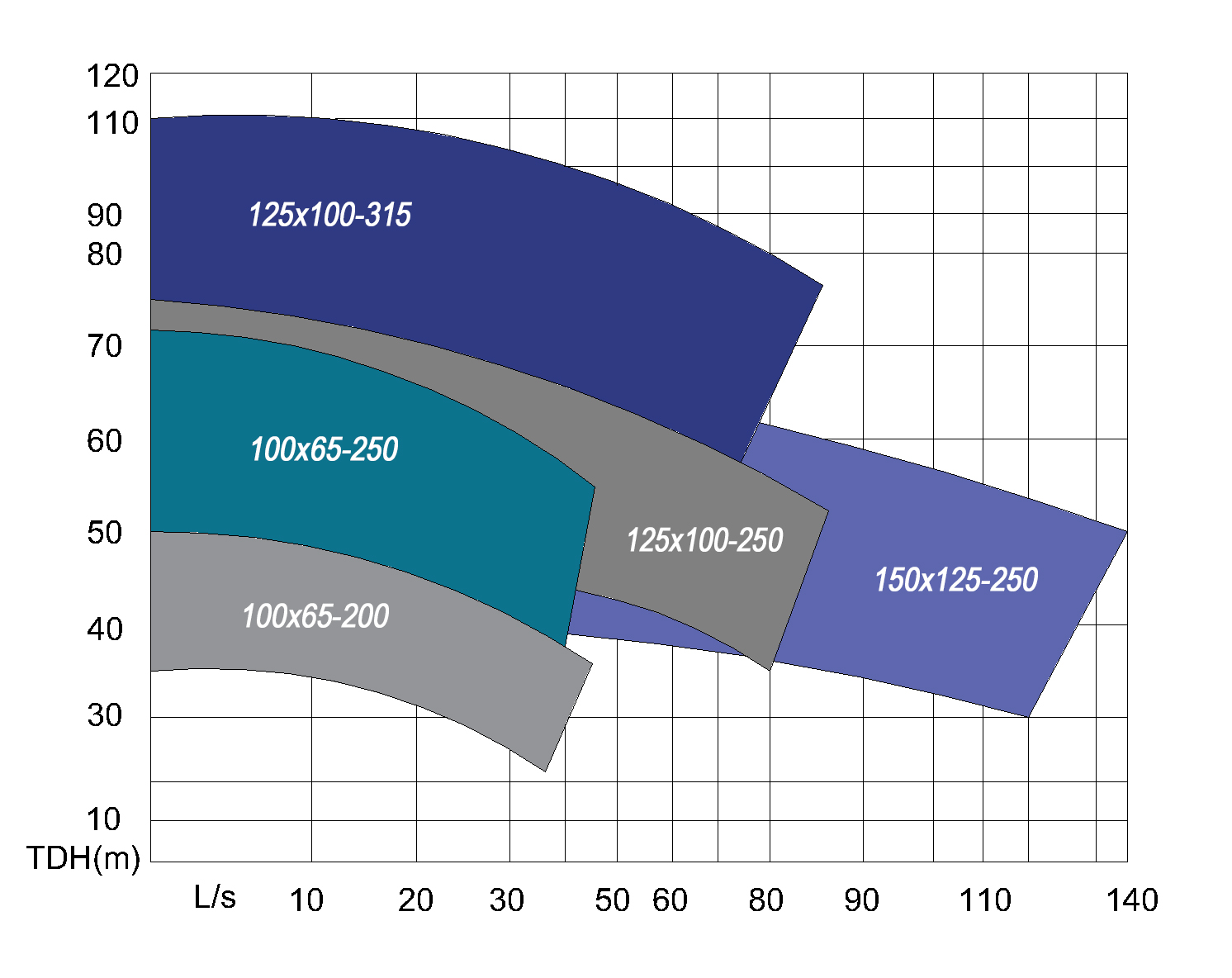 | | | | | | | | |
| --- | --- | --- | --- | --- | --- | --- | --- |
| Pump Model Number | Hydraulic Drive Model Number | Suction Size | Discharge Size | Impeller Type | Flow Range | Head Range | Max Operating Speed (RPM) |
| 100 x 65 – 200 | GM 130A | 100 NB | 65 NB | Closed | 15-33L/s | 26-33m | 2000 |
| 100 x 65 – 200 | GM 230A | 100 NB | 65 NB | Closed | 18-40L/s | 36-48m | 2400 |
| 100 x 65 – 250 | GM 130A | 100 NB | 65 NB | Closed | 18-33L/s | 42-50m | 2000 |
| 100 x 65 – 250 | GM 230A | 100 NB | 65 NB | Closed | 20-41L/s | 60-72m | 2400 |
| 125 x 100 – 250 | GM 175C | 125 NB | 100 NB | Closed | 37-78L/s | 36-50m | 2000 |
| 125 x 100 – 250 | GM 230A | 125 NB | 100 NB | Closed | 43-90L/s | 52-72m | 2400 |
| 125 x 100 – 315 | GM 176C | 125 NB | 100 NB | Closed | 37-62L/s | 62-73m | 2000 |
| 125 x 100 – 315 | GM 265A | 125 NB | 100 NB | Closed | 37-62L/s | 62-74m | 2400 |
| 150 x 125 – 250 | GM 176C | 150 NB | 125 NB | Closed | 43-115L/s | 34-50m | 2000 |
| 150 x 125 – 250 | GM 265A | 150 NB | 125 NB | Closed | 47-135L/s | 50-70m | 2400 |