MD Series - Magnetic Drive Pumps
MTP distributes and services the Aquaplus MD Series Magnetic Drive pumps. These pumps feature a seal-less design, with power transmission taking place through the magnetic fields generated by permanent magnets fixed to the impeller and motor shaft ensuring zero leakage pumping.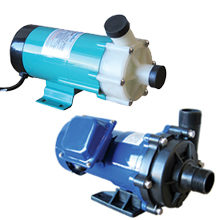 Features
Applications
Downloads
Zero leakage.
Excellent chemical resistance.
Easy maintenance.
Chemical and petrochemical
Photographic and X-Ray processing
Medical
Galvanising
Electroplating
Anodising
Etching
Fertiliser plants
Water treatment
Food and beverage
Refrigeration
Aquaculture