NBG, NBGE Series
Grundfos NBG and NBGE end-suction close-coupled pumps are non-self-priming, single-stage, centrifugal volute pumps with axial-suction port, radial-discharge port and horizontal shaft.
If you require a multi-purpose pump suitable for a variety of demanding applications, the NBG ensures reliable and effective supply.
The NBGE is available with a permanent magnet MGE motor up to 11 kW with built-in variable frequency drive and IE5 efficiency to keep efficiency high at all times.
Installation in confined areas is easy due to the compact close-coupled pump design. The NBG and NBGE pump is designed with main dimensions to the ISO2858 standard, and all Grundfos end-suction pumps are tested to ISO909906:2012 Acceptance Grade standards before leaving the factory.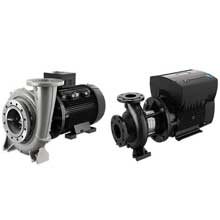 Features
Applications
Tech Specs
Downloads
High efficiency
High-efficiency motors configured to meet requirements from the power supply, the pumping environment and the pumped liquid.
Unequalled flow
Optimised hydraulics in housing and impeller for unimpeded liquid flow through the pump.
Sealed operation
O-ring seal between pump housing and cover means no risk of leakage.
Improved corrosion resistance
Housing, impeller and wear ring in different materials for improved corrosion resistance and no sticking elements.
Commercial air conditioning
Commercial heating
Commercial hot water recirculation
Commercial water pressure boosting
District heating
Cooling
Desalination
Leach mining
Mine dewatering
Wash and clean
Temperature control
Industrial boiler systems
Industrial heating
Irrigation
Water distribution
Max flow: 1578 m³/h
Head max: 230 m
Liquid temperature: -25 .. 140 °C
p max: 25 bar