RL Series Pumps
The Roto RL Series Pumps are cost effective Progressive Cavity pumps. They use the extended Rotor Stator Geometry and are ideal for sewage and effluent treatment applications. The Roto RL Series Pumps are available in close coupled and bare shaft configurations to suit your application requirements.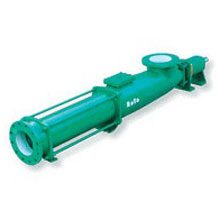 Features
Applications
Tech Specs
Downloads
Positive Displacement– Because of single rotating element, progressive cavities are generated which deliver a uniform, metered and non-pulsating flow. The head developed is independent of the rotational speed, where as the capacity is proportionate to the speed.
Self Priming – Inherently self-priming, the pumps can work on snore and do not require foot valve.
Non-Clogging – Can handle solid in suspension or medias containing a high percentage of solids.
Low NPSH Requirement – Suction lift capabilities of up to 9.5mwc and effective in high vacuum conditions.
Low Internal Velocity– Minimum degradation of share-sensitive media, and can also handle highly viscous materials having pseudo-plastic characteristics.
Reversible– Due to the reversible rotation capabilities, progressive cavity pumps can preform with equal efficiency in either direction.
Silent Running – Rotors turn inside a resilient stator and thus generate little noise.
Separate Bearing Housing – Fluids can be pumped without no contamination.
NOTE: Product information should be used as a guide only and should not be used for pump selection. For further information, please contact Malcolm Thompson Pumps on 1800 355 606.
Municipal Waste
Manufacturing
Agriculture
Mining
Construction
Utilities
Extra Large Capacity 'RL' Series Pumps
Viscosities : Up to 15,000 cst
Temp : Up to 150 °C / 302 °F
Solid Handling Capability : Up to 7 %
Size
L54
L57
L59
L61
L63
L67
L71
L75

Capacity

m3/hr
14.2
24.5
42
56
70
116
195
345
GPM
63
107
185
246
308
511
860
1520

Pressure

Bar
6
6
6
6
6
6
6
6
PSI
85
85
85
85
85
85
85
85