S Series
Pacer S Series Pumps are light weight, portable transfer pumps, suitable for applications where limited solids are present. They have corrosion and chemical resistant properties and are available in a range of materials to suit your specific application.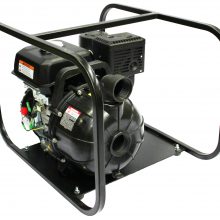 Features
Applications
Curves
Tech Specs
Corrosion and chemical resistant properties
Strong 30% glass filled polyester (FRP) standard
Alternative casing materials available (Polypropylene or Ryton)
Alternative Elastomers available (Viton Buna-N or EPDM seals available on each model if required)
Double flush volute
Easy cleaning
Rubber-lined volute available on each model if required
Stainless steel fasteners as standard (non -metallic fasteners available)
Strong integrated handle
2" & 3" Petrol & Diesel can be furnished optional with Roll Frame
1 year limited warranty on Pacer Pumps
3 year limited warranty on Kohler Petrol & Diesel Engines
NOTE: Product information should be used as a guide only and should not be used for pump selection. For further information, please contact Malcolm Thompson Pumps on 1800 439 607.
Marine
Bilge pumps, pumps for deck and net wash down, fire protection and refrigerating chillers
Agriculture
Transferring water, fertilizer and other agricultural chemicals for use in irrigation, chemical transfer, spraying and feeding of livestock as well as for aeration aquaculture
Construction
Dewatering pits, dust control and water delivery trucks
Industrial
Transferring or recirculating a variety of acids, caustics and many solvents used in chemical processes or wash down applications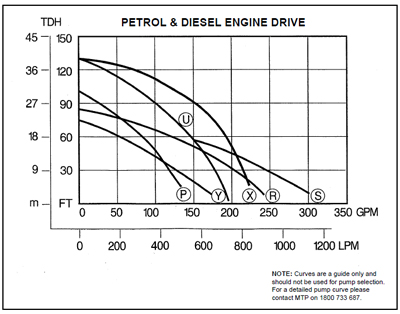 Petrol Drive
Part Number
Model
Ports
Thread
Engine
Seal Type
Impeller
Max Flow (LPM)
Max Head (M)
SE11/2BPLCH260F
SE1
1 1/2 "
BSP
Kohler CH260 6HP Recoil Only
EPDM
Low Flow / Medium Head  P Curve – 704 Impeller
592
32
SE11/2BPBCH260F
BUNA-N
SE11/2BPVCH260F
VITON
SE11/2BYLCH260F
EPDM
Medium Flow / Low Head  Y Curve – 974 Impeller
643
23
SE11/2BYBCH260F
BUNA-N
SE11/2BYVCH260F
VITON
SE2BPLCH260F
SE2
2″
Kohler CH260 6HP Recoil Only
EPDM
Medium Flow / Medum Head 704 Impeller
568
30
SE2BPBCH260F
BUNA-N
SE2BPVCH260F
VITON
SE2BPLCH270EF
Kohler CH270 7HP Electric / Recoil
EPDM
SE2BPBCH270EF
BUNA-N
SE2BPVCH270EF
VITON
SE2BULCH260F
Kohler CH260 6HP Recoil Only
EPDM
Medium Flow / High Head 706 Impeller
600
35
SE2BUBCH260F
BUNA-N
SE2BUVCH260F
VITON
SE2BULCH270EF
Kohler CH270 7HP Electric / Recoil
EPDM
SE2BUBCH270EF
BUNA-N
SE2BUVCH270EF
VITON
SE2BRLCH260F
Kohler CH260 6HP Recoil Only
EPDM
High Flow / Low Head 975 Impeller
900
23
SE2BRBCH260F
BUNA-N
SE2BRVCH260F
VITON
SE2BRLCH270EF
Kohler CH270 7HP Electric / Recoil
EPDM
SE2BRBCH270EF
BUNA-N
SE2BRVCH270EF
VITON
SE3BNLCH260F
SE3
3″
Kohler CH260 6HP Recoil Only
EPDM
Medium Flow / High Head 706 Impeller
870
38
SE3BNBCH260F
BUNA-N
SE3BNVCH260F
VITON
SE3BNLCH270EF
Kohler CH270 7HP Electric / Recoil
EPDM
SE3BNBCH270EF
BUNA-N
SE3BNVCH270EF
VITON
SE3BSLCH260F
Kohler CH260 6HP Recoil Only
EPDM
High Flow / Medium Head 975 Impeller
1060
27
SE3BSBCH260F
BUNA-N
SE3BSVCH260F
VITON
SE3BSLCH270EF
Kohler CH270 7HPElectric / Recoil
EPDM
SE3BSBCH270EF
BUNA-N
SE3BSVCH270EF
VITON
Diesel Drive
Part Number
Model
Ports
Thread
Engine
Seal Type
Impeller
Max Flow (LPM)
Max Head (M)
SE11/2BPLKD225F
SE
1 1/2 ″
BSP
Kohler KD2254.5 HP Recoil Only
EPDM
Low Flow / Medium Head 704 Impeller
529
32
SE11/2BPBKD225F
BUNA-N
SE11/2BPVKD225F
VITON
SE11/2BPLKD225EF
Kohler KD225 4.5 HP Electric / Recoil
EPDM
SE11/2BPBKD225EF
BUNA-N
SE11/2BPVKD225EF
VITON
SE11/2BYLKD225F
Kohler KD2254.5 HP Recoil Only
EPDM
Medium Flow / Low Head 974 Impeller
643
23
SE11/2BYBKD225F
BUNA-N
SE11/2BYVKD225F
VITON
SE11/2BYLKD225EF
Kohler KD225 4.5 HPElectric / Recoil
EPDM
SE11/2BYBKD225EF
BUNA-N
SE11/2BYVKD225EF
VITON
SE2BPLKD225F
2″
Kohler KD225 4.5 HP Recoil Only
EPDM
Low Flow / Medium Head 704 Impeller
568
30
SE2BPBKD225F
BUNA-N
SE2BPVKD225F
VITON
SE2BPLKD225EF
Kohler KD225 4.5 HP Electric / Recoil
EPDM
SE2BPBKD225EF
BUNA-N
SE2BPVKD225EF
VITON
SE2BULKD225F
Kohler KD225 4.5 HP Recoil Only
EPDM
Medium Flow / High Head 706 Impeller
600
35
SE2BUBKD225F
BUNA-N
SE2BUVKD225F
VITON
SE2BULKD225EF
Kohler KD225 4.5 HP Electric / Recoil
EPDM
SE2BUBKD225EF
BUNA-N
SE2BUVKD225EF
VITON
SE3BSLKD225F
Kohler KD225 4.5 HP Recoil Only
EPDM
High Flow / Medium Head 975 Impeller
900
23
SE3BSBKD225F
BUNA-N
SE3BSVKD225F
VITON
SE3BSLKD225EF
Kohler KD225 4.5 HP Electric / Recoil
EPDM
SE3BSBKD225EF
BUNA-N
SE3BSVKD225EF
VITON
SE3BNLKD225F
3″
Kohler KD225 4.5 HP Recoil Only
EPDM
Medium Flow / High Head 706 Impeller
870
38
SE3BNBKD225F
BUNA-N
SE3BNVKD225F
VITON
SE3BNLKD225EF
Kohler KD225 4.5 HP Electric / Recoil
EPDM
SE3BNBKD225EF
BUNA-N
SE3BNVKD225EF
VITON
SE3BSLKD225F
Kohler KD225 4.5 HP Recoil Only
EPDM
High Flow / Medium Head 975 Impeller
1060
27
SE3BSBKD225F
BUNA-N
SE3BSVKD225F
VITON
SE3BSLKD225EF
Kohler KD225 4.5 HP Electric / Recoil
EPDM
SE3BSBKD225EF
BUNA-N
SE3BSVKD225EF
VITON