SE1 Series
With the Grundfos SE1 1.1-11 kW submersible wastewater pump with a Grundfos S-tube® impeller, you are assured no compromise between reliability and high efficiency. This offers the best solution for continuous operation with large flows of raw sewage, with free passage of solids up to 5"/125 mm.
The SE1 wastewater pump can also be dry-installed without motor cooling and is a tried and tested performer in the industry, designed to optimise your system with minimum servicing required. Built for reliability, easy installation and hassle-free operation, the SE1 comes packed with innovative Grundfos features that protect the pump and ensure optimal system performance for industrial and municipal wastewater applications.
Features
Applications
Curves
Tech Specs
Brochure
The hydraulic design of the Grundfos S-tube® impeller ensures no compromise between free passage through the pump and high efficiency, keeping reliability high and clogging at a minimum.
Primary and secondary seal in one cartridge unit provides longer seal lifetime and easy fail-proof replacement in the field without special tools.
The moisture-proof plug design prevents moisture from entering the motor.
Suitable for vertical or horizontal installation, dry and submerged, without the need for external motor cooling.
Commercial wastewater
Water reuse
Flood control
Wastewater treatment
Wastewater transport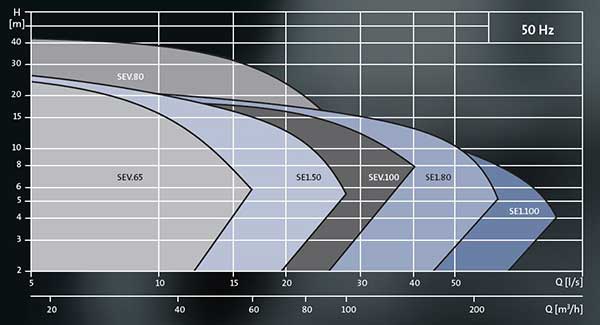 Max flow = 83 l/s
Head max = 27 m
Liquid temperature = 0 .. 40 °C
p max = 6 bar