SEG Series
The SEG range of grinder pumps from Grundfos is specifically designed for pumping effluent and untreated sewage in small communities or sparsely populated areas with no sewer systems or where gravitation systems are unsuitable.
Pressurised systems are the perfect choice for transfer of effluent and domestic sewage, and the SEG range combines cost-effectiveness with maximum protection for the environment by facilitating the use of smaller pressure pipes for minimal investment costs.
The SEG range is designed to reduce energy consumption and to keep downtime costs to a minimum, while maintaining peak performance throughout the life time of the system.
Features
Applications
Curves
Tech Specs
Brochure
Watertight cable connection
The polyurethane-filled stainless steel cable connection is hermetically sealed, ensuring that liquid cannot penetrate through the cable into the motor.
Double mechanical shaft seal
Efficient single-unit cartridge shaft seal system ensures longer operation time with less downtime and is easy to replace in the field, without the need for special tools.
Stainless steel clamp
Unique clamp assembly system for quick and easy disassembly of pump from motor unit, where no tools are required.
Motor protection
Built-in thermal switches in the motor windings provide protection against overheating, and this ensures a long lifetime
Efficient grinder system
Patented grinder system ensures extremely high efficiency and reliable operation with quick and easy dismantling for replacement of wear parts. No special tools are required.
SmartTrim impeller adjustment 
Patented SmartTrim system enables quick and easy impeller clearance adjustment in order to maintain peak performance and this can be done without dismantling the pump. No special tools are required.
The SEG pumps are designed for use in:
• Small towns
• Farm areas and areas of difficult typography, such as rocky terrains
• Commercial Building Services
• Municipalities
• Areas with high groudwater
• Industry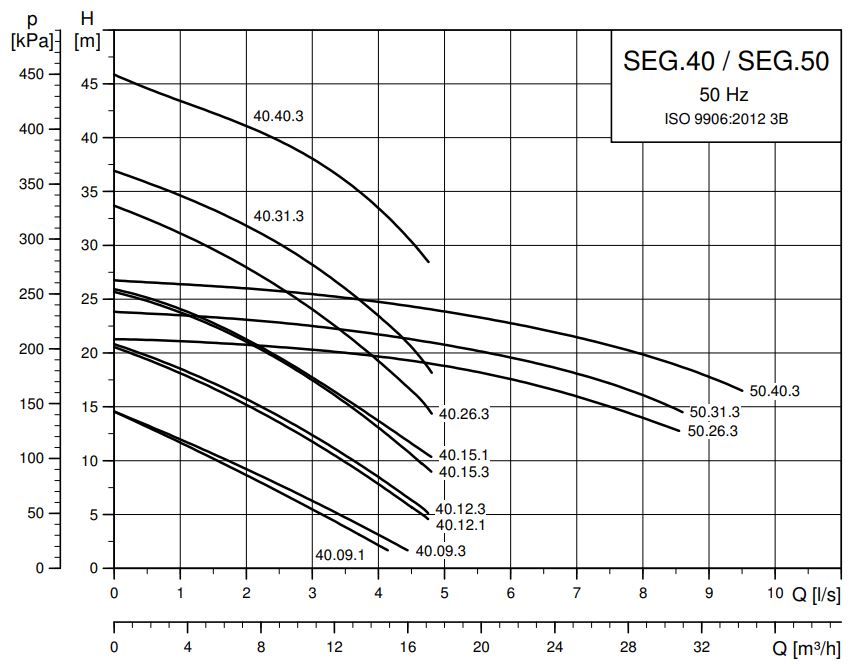 | | | | | | | |
| --- | --- | --- | --- | --- | --- | --- |
| Product Name  | Product No | Max flow | Head max | Type of impeller | Primary shaft seal | Secondary shaft seal |
| SEG.40.09.E.EX.2.1.502 | 96878507 | 4.11 l/s | 14.4 m | GRINDER SYSTEM | SIC/SIC | LIPSEAL |
| SEG.40.09.E.EX.2.50B | 96878508 | 4.39 l/s | 14.4 m | GRINDER SYSTEM | SIC/SIC | LIPSEAL |
| SEG.40.09.EX.2.1.502 | 96076161 | 4.17 l/s | 14.4 m | GRINDER SYSTEM | SIC/SIC | LIPSEAL |
| SEG.40.09.EX.2.50B | 96076162 | 4.44 l/s | 14.4 m | GRINDER SYSTEM | SIC/SIC | LIPSEAL |
| SEG.40.12.E.EX.2.1.502 | 96878512 | 4.75 l/s | 20.5 m | GRINDER SYSTEM | SIC/SIC | LIPSEAL |
| SEG.40.12.E.EX.2.50B | 96878513 | 4.75 l/s | 20.7 m | GRINDER SYSTEM | SIC/SIC | LIPSEAL |
| SEG.40.12.EX.2.1.502 | 96076163 | 5 l/s | 20.5 m | GRINDER SYSTEM | SIC/SIC | LIPSEAL |
| SEG.40.12.EX.2.50B | 96076164 | 5 l/s | 20.7 m | GRINDER SYSTEM | SIC/SIC | LIPSEAL |
| SEG.40.15.E.EX.2.50B | 96878515 | 4.75 l/s | 25.8 m | GRINDER SYSTEM | SIC/SIC | LIPSEAL |
| SEG.40.15.EX.2.50B | 96076165 | 5.28 l/s | 25.8 m | GRINDER SYSTEM | SIC/SIC | LIPSEAL |
| SEG.40.26.E.EX.2.50B | 96878517 | 4.75 l/s | 33.8 m | GRINDER SYSTEM | SIC/SIC | CARBON/CERAMICS |
| SEG.40.26.EX.2.50B | 96076166 | 5.28 l/s | 33.8 m | GRINDER SYSTEM | SIC/SIC | CARBON/CERAMICS |
| SEG.40.31.E.EX.2.50B | 96878519 | 4.75 l/s | 37 m | GRINDER SYSTEM | SIC/SIC | CARBON/CERAMICS |
| SEG.40.31.EX.2.50B | 96076167 | 5 l/s | 37 m | GRINDER SYSTEM | SIC/SIC | CARBON/CERAMICS |
| SEG.40.40.E.EX.2.50B | 96878521 | 4.75 l/s | 45.7 m | GRINDER SYSTEM | SIC/SIC | CARBON/CERAMICS |
| SEG.40.40.EX.2.50B | 96076168 | 5.28 l/s | 45.7 m | GRINDER SYSTEM | SIC/SIC | CARBON/CERAMICS |
| SEG.50.26.E.EX.2.50B | 99274435 | 8.56 l/s | 21.3 m | GRINDER SYSTEM | SIC/SIC | CARBON/CERAMICS |
| SEG.50.26.EX.2.50B | 99274393 | 8.61 l/s | 21.3 m | GRINDER SYSTEM | SIC/SIC | CARBON/CERAMICS |
| SEG.50.31.E.EX.2.50B | 99274437 | 8.61 l/s | 23.8 m | GRINDER SYSTEM | SIC/SIC | CARBON/CERAMICS |
| SEG.50.31.EX.2.50B | 99274394 | 8.61 l/s | 23.8 m | GRINDER SYSTEM | SIC/SIC | CARBON/CERAMICS |
| SEG.50.40.E.EX.2.50B | 99274439 | 9.5 l/s | 26.8 m | GRINDER SYSTEM | SIC/SIC | CARBON/CERAMICS |
| SEG.50.40.EX.2.50B | 99274395 | 9.44 l/s | 26.8 m | GRINDER SYSTEM | SIC/SIC | CARBON/CERAMICS |