Sigma 3
Prominent's Sigma Series of motor driven dosing pumps is the most robust, reliable design in Prominent's motor driven range and is suitable for heavy duty industrial processes.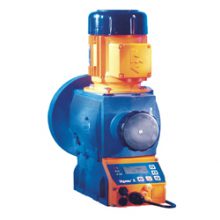 Features
Applications
Tech Specs
Capacity range 145 – 1030 litres/hour, 12– 4 bar
Highly robust metal inner housing for load stressed parts
Plastic housing to protect against corrosion
Dosing accuracy is better than ± 2% in the stroke length range of 30 – 100%
Corrosion resistant plastic housing rated IP 65
Available in contact or analogue signal
NOTE: Product information should be used as a guide only and should not be used for pump selection. For further information, please contact Malcolm Thompson Pumps on 1800 439 607.
Metering of highly viscous substances such as polymers
Cyanide dosing in gold processing and treatment
Wastewater dosing in municipal sewerage treatment plants
Water treatment for boiler feed water in power stations
Chemical dosing in fertilizer manufacturing plants
Post process water treatment in reverse osmosis potable water plants
Part number
Max pump capacity at max back pressure
Max stroke frequency (strokes/ min)
Suction lift (mWG)
Adm priming pressure suction side
Connector suction/ discharge side
Power supply
Delivery weight (kg)
(bar)
(L/hr)
(mL/ stroke)
(bar)
(DN)
S3BaHM120145PVT0010M000
10
145
31.5
72
5
2
25
1 ½" / 25mm
1 ph. 230 Volt, 0.55kW
22
S3BaHM120330PVT0010M000
10
330
31.5
180
5
2
25
1 ½" / 25mm
1 ph. 230 Volt, 0.55kW
22
S3BaHM170410PVT0010M000
7
410
95.1
72
4
1
32
2″ / 32mm
1 ph. 230 Volt, 0.55kW
24
S3BaHM041030PVT0010M000
4
1030
95.1
180
3
1
32
2″ / 32mm
1 ph. 230 Volt, 0.55kW
24
Control
Part number
Max pump capacity at max back pressure
Max stroke frequency (strokes/ min)
Suction lift (mWG)
Adm priming pressure suction side
Connector suction/ discharge side
Power supply
Delivery weight (kg)
(bar)
(L/hr)
(mL/ stroke)
(bar)
(DN)
S3CaH120145PVT0010WC01000
10
145
31.5
72
5
2
25
1 ½" / 25mm
1 ph. 115 – 230 Volt, 50/60Hz
22
S3CaH120270PVT0010WC01000
10
270
31.5
144
5
2
25
1 ½" / 25mm
1 ph. 115 – 230 Volt, 50/60Hz
26
S3CaH070580PVT0010WC01000
7
580
95.1
103
4
1
32
2″ / 32mm
1 ph. 115 – 230 Volt, 50/60Hz
24
S3CaH040830PVT0010WC01000
4
830
95.1
144
3
1
32
2″ / 32mm
1 ph. 115 – 230 Volt, 50/60Hz
24