SQE Series Bore Water Pump
The Grundfos SQE submersible groundwater pump is one of the most advanced submersible pump solutions for domestic applications. Equipped with a permanent magnet motor and a built-in variable speed drive, it enables performance adjustments by means of communication with an external control box.
SQE features a variable speed drive, which helps the pump to automatically adjust itself to ensure constant water pressure regardless of changing demands, eliminating weak or fluctuating water supply and improving comfort. SQE is provided as an all-in-one box solution, easy to both install and operate. It is suitable for continuous and intermittent operation for a variety of applications, including groundwater supply and pressure boosting.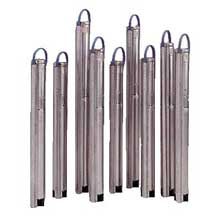 Features
Applications
Tech Specs
Thanks to the built-in variable speed drive, SQE delivers constant water pressure regardless of the number of opened taps. This increases homeowner comfort.
Its soft start feature minimises the risk of pump wear and reduces the occurrence of water hammer in the pipes, resulting in an increase of the overall lifetime of your SQE.
SQE has a very wide supply voltage range which reduces the risk of overheating the motor, improving your peace of mind.
Domestic ground water intake
Domestic water pressure boosting
Ground water intake
Max flow: 9 m³/h
Head max: 230 m
Liquid temperature: 0 .. 35 °C