STN Series
The CDR Pumps STN Series magnetic Drive Pump is a heavy weight engineered product, while also being very competitively priced. Manufactured from CDR Pumps, one of the world's leading chemical pumps manufactures, the range also provides peace of mind that chemicals are being handled safely and efficiently.
The heavy duty rare earth magnetic coupling allows these pumps to handle SG of 2.0 as standard. Bearing material options of PTFE, Graphite, Ceramic, Silicon Carbide and RunSafe™ Silicon Carbide allow these pumps to be handled on a wide diversity of liquids.
The pump structure is extremely simple and the seal-less design ensures leak-free operations. These pumps can be used with confidence wherever aggressive, corrosive or hazardous chemicals need to be transferred leak free and contamination free.
The STN pump series is widely regarded as being very easy to work with from a maintenance and application point of view, and really are the industry leaders for this type of unit.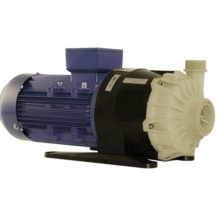 Features
Applications
Curves
Tech Specs
Downloads
Zero leakage
Excellent chemical resistance
Easy maintenance
Chemical and petrochemical
Photographic and x-ray processing
Medical
Galvanising
Electroplating
Anodising
Etching
Fertiliser plants
Water treatment
Food and beverage
Refrigeration
Aquaculture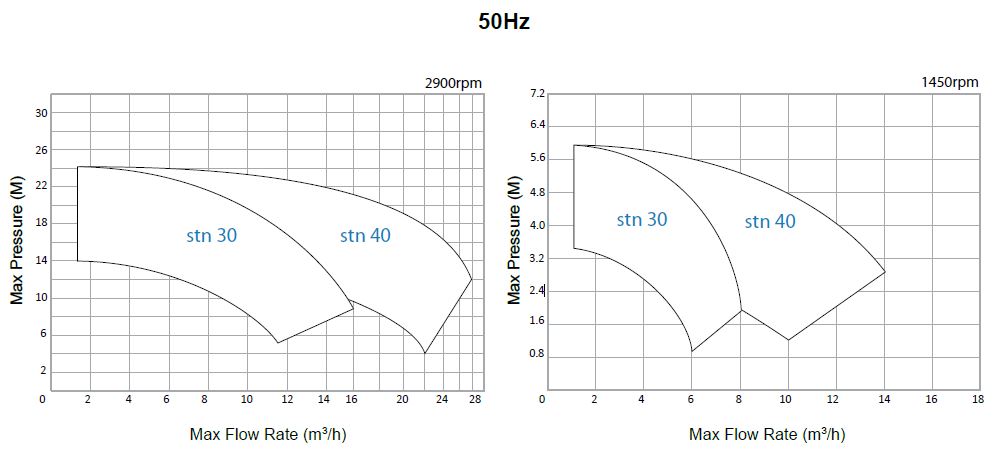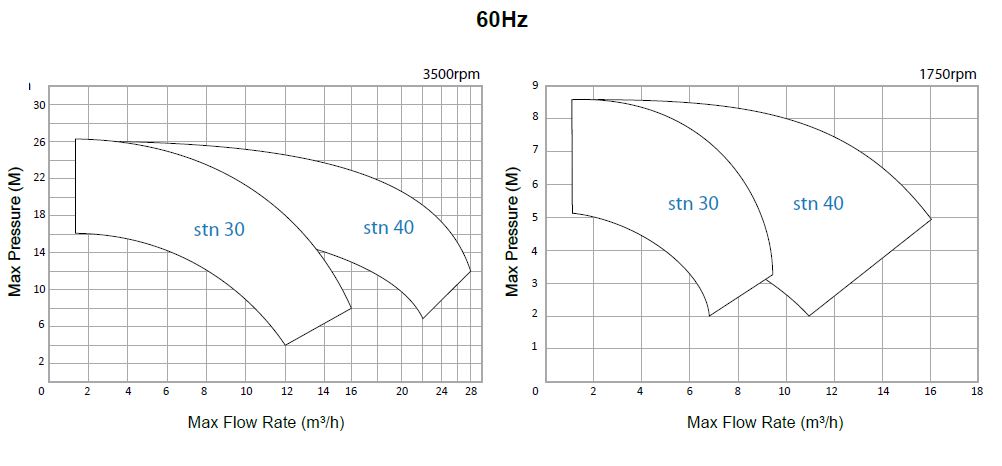 Part Number
Suction (mm)
Discharge (mm)
Pump Material Type
Power (kW)
Motor Poles
Max Flow Rate(M3/Hr)
Max Pressure (M)
MAGSTN30 PP
50
25
PP+GF/FPM/PTFE-AI2O3/AI2O3
0.55
4
8
6
1.5
4
16
24
0.75
2
12.5
16
1.1
2
14
20
MAGSTN40 PP
70
40
PP+GF/FPM/PTFE-AI2O3/AI2O3
0.55
4
8
6
1.1
2
16
24
1.5
2
12.5
16
2.2
2
14
20
3
2
17
6
MAGSTN30 ETFE
50
25
CFR-ETFE/FPM/PTFE-AI2O3/AI2O3
0.55
4
34
24
1.5
4
33
23
0.75
2
30
18
1.1
2
28
15
MAGSTN40 ETFE
70
32
CFR-ETFE/FPM/PTFE-AI2O3/AI2O3
0.55
4
17
6
1.1
2
34
24
1.5
2
34
24
2.2
2
33
23
3
2
30
18
4
2
28
15