In-house Pump Repair Services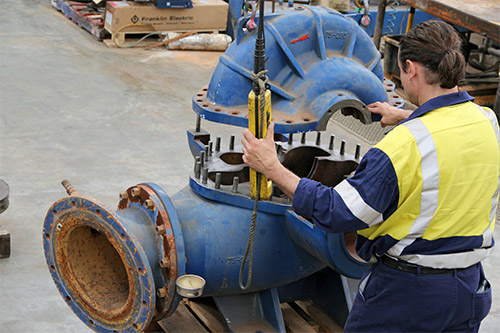 To provide you with the most efficient and high quality pump repairs, we have pump service centres in Perth, Kalgoorlie and Sydney.
All of our Pump Service Centres offer modern, fully equipped pump repair workshops and experienced service staff to help with your pump problems.
Our pump repair workshops offer a wide range of pump service solutions* including:
Pump testing on all pump types
After hours or emergency service and repairs
Service exchange programs
APIA and Australian standard testing.
Experienced service technicians and quality pumps and parts are essential for ensuring the longevity of your pumping equipment. Don't risk the inconvenience of pump failure – contact Malcolm Thompson Pumps to speak to one of our experienced service technicians today.
View our Pump Service Centres to find out more about your local branch's capabilities or phone us on 1800 439 607 to find out how we can help with your pump problems.
*Pump services may vary per branch.
Recent In-house Pump Repair Projects