CM Series
ABEL CM piston membrane pumps enable the transfer of highly abrasive, even grainy suspensions by using high-strength special membranes and ball valves, which prevent the medium being pumped from coming into contact with the piston and other mechanical control elements of the pump.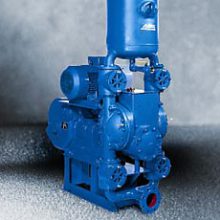 Operational reliability through double membrane technology
Up to 215 m³/h (950 GPM)
Up to 6.4 MPa (930 psi)
Plastic design (Polypropylene wet end) available
Optimal design to withstand high pressures
Maximum filling efficiency
Hermetically sealed
Product side without gland packings
Ball or conical valves
Valve housing with inspection openings
Visual or electrical membrane control indicator
Safety valve and automatic liquid supplement in the primary circulation
Central pressure control during filter press
NOTE: Product information should be used as a guide only and should not be used for pump selection. For further information, please contact Malcolm Thompson Pumps on paingpaing [11:07 AM]
1800 355 606.
Sludge transfer
Feeding filter presses, rotary kilns, or spray driers (spray dryer feed pump)
Transfer of raw sewage
Transfer of abrasive, corrosive, acidic, alkaline, pigmented, viscous or grainy media