Pump Repair and Service
For over 50 years, MTP has been providing pump service and repair solutions across a large range of Australian industries. Regardless of your industry, the fluid you are pumping or the type of pump you are using, our pump service and repair services are designed around three key objectives:
Maximising your Pump's Performance: Our technicians consistently identify ways to maximise your pump's performance during every service and repair job. Areas we focus on include excessive wear ring clearances, internal recirculation, accelerated bearing wear and packing/mechanical seal failure. We aim to increase your service intervals while reducing energy costs.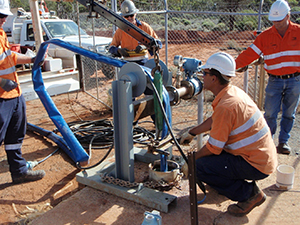 Minimising your Pump's Downtime: For Emergency Repairs our service vehicle fleet and Pump Service Centres are designed and equipped to ensure the fastest turnaround times possible. Our Preventative Maintenance programs also aim to ensure your pumps are offline for short, pre-arranged times, rather than potentially lengthier, inconvenient times during an emergency.
Minimising your Pump's Lifecycle Costs: The cost of a pump itself is often a fraction of the overall costs associated with the life of the pump. In some applications the maintenance costs will be 10 times the cost of the pump over its life.
We use the latest techniques
The Benefits of Laser Alignment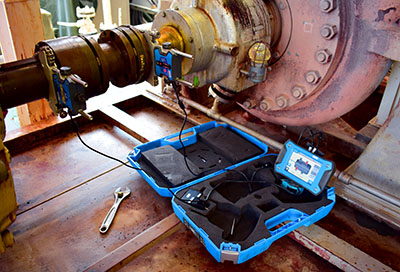 Some of our countries hardest working pumps can be found in our hospitals, hotels, aquatic centres, aged care facilities and industrial complexes. These pumps work around the clock, covering a number of essential services such as water and waste management.
Hard working pumps require regular servicing in order to maintain efficient operation, however, whenever a pump or motor are moved, for purposes such as repair or maintenance, the pump motor shaft will require re-alignment. The best method for this is laser alignment.
Laser alignment is used for the alignment of pump to motor in long-coupled pumps. Pump motor shaft alignment needs to be precise in order to avoid excessive wear and tear on bearings, mechanical seals and wear rings which will shorten service intervals or cause equipment downtime. Many pump service technicians rely on their own skills and experience to align the motor shaft, however, while a pump may appear to be aligned to the naked eye, a slight misalignment is all it takes to affect your pump, often resulting in less efficiency, higher energy usage and pump noise and vibrations.
At MTP, our laser alignment practices utilise the latest in laser optical technology to precisely align the pump to the motor within a fraction of a millimeter, ensuring optimum pump efficiency between scheduled maintenance.
We Repair and Service all Pumps and Brands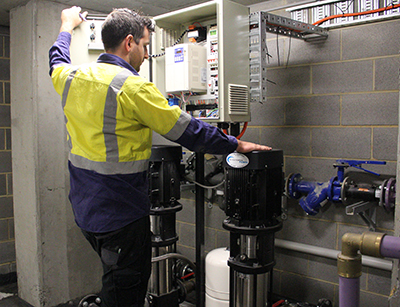 Our service technicians not only service equipment across all major industries but have widespread experience in servicing and repairing all major pump brands including Grundfos, Nossiter Pumps, Davey, Southern Cross, Aquaplus, Lowara, Flowserve, Flyght and many more.
Our fleet of service vehicles and our Pump Service Centres are equipped to service and repair all pump types including centrifugal pumps, submersible pumps, sump pumps, dosing pumps, water pumps and booster pumps.
Pump Service Certification
At MTP we are proud of our commitment to maintaining the high standards in all that we do and are proud of our certifications.
• CM3 Certified (Certification No 010125)
• Trades Monitor (ID 17027)
• Community Select
• Confined Space Training