Mining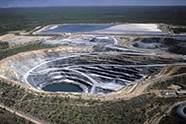 With over 50 years experience in underground and open pit mines, Malcolm Thompson Pumps is positioned to deliver pumps and pump solutions for the most rugged and varied mining conditions. We are proud to have ongoing relationships with all major mining companies, mine sites and consultants in Australia. We appreciate the importance of ensuring pumps remain operational and the pivotal role they play on mine sites.
Our hard working range of pumps are ideally suited to the mining industry, covering everything from mobile dust suppression, to transfer and process applications. Specific pump types include a large range of end suction centrifugal pumps (ISO, DIN, ANSI and API), submersible pumps (dewatering and sewerage), transfer pumps, self priming pumps and chemical dosing pumps. We also exclusively sell a range of Retrofit Pump Spares into the mining industry suitable for Sulzer and Ahlstrom pumps.
View our mining capability flyer here.
With a dedicated Projects and Engineering department located in Perth, we also custom build a large variety of pump packages for both transfer and process applications, including dewatering. We are also proud to specialise in Bore Hole Pump Packages and exclusively distribute the Aquaplus range of Flexible Rising Main hose.
MTP also provides mine sites with a complete Service and Repair capability, providing on site services as well as workshop repairs in fully equipped, modern workshops.