APC Series – Diesel Driven Pumps
At Malcolm Thompson Pumps, our Australian made Stalker Pumps brand is well known for delivering leading diesel driven pump systems. With their foundry located in Perth, WA, Stalker Pumps manufacture APC Pump Systems in Australia meaning quick lead times and high quality materials used.
With Stalker Pumps having over 90 years' experience in the pumping industry, we believe their team has developed a diesel pumping system that has a diverse range of high performing features that can suit many applications.
Key features to this diesel pumping system include:
Designed, engineered and manufactured in Perth, Western Australia
Suitable for use with diesel engines
Applications include clean water, sea water, raw water, process water, waste water, sewage and hazardous fluids, as well as corrosive liquids
Can be customised for your pumping requirements and can be configured to suit a wide variety of applications
Vast array of material of construction options including Ductile Iron, Chrome Iron, Stainless Steel, H3C, Duplex and many more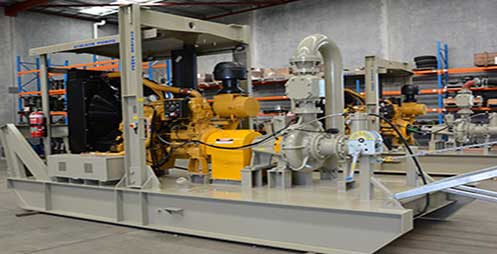 What are the advantages of the APC Diesel Pumps Series?
We are dedicated to delivering the highest level of customer satisfaction by offering:
All metals casted in-house by our skilful engineers with high quality and performance in mind
An experienced Engineering team for complete customised pumping solutions. In addition, we have a dedicated and professional after-sales and on-site service support team
Competitive pricing and short lead times – Stalker Pumps are one of the last remaining pump supplies in Australia with an on-site foundry in Perth WA
Local, national and international delivery services
Reliable repair services via MTP's branch network
Call our team on 1800 439 607 or send us an enquiry on this pump range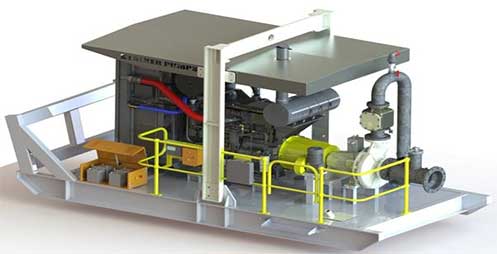 Features
Applications
Curves
Sizes: 80mm to 300mm
Heads: up to 260 metres
Capacities: up to 540 litres per second
Pumps: Stalker Super Heavy Duty (SHD). Available in a range of materials include Ductile Iron, Chrome Iron, H3C, Stainless Steel, Duplex and many more
Mechanical Seal: Fitted with cartridge mechanical seal with barrier fluid tank lubrication
Diesel Engine: Options of Cummins and Cat
Skid Base
-Pump and motor assembly fitted on a heavy duty skid frame
-Made from fabricated mild steel material with built in fuel tank
-Rear bump bar for pushing pump skid assembly, short distance adjustment only
-Fitted with sun roof & lifting frame for single point crane lift
-Fitted with suction boom for handling suction hose
-All welds to AS 1554.1SP, 10% NDT on skid frame, 100% NDT on lifting lugs
-Stalker standard OEM surface treatment powder coated in dulux light grey colour
Auto-Priming System
-Auto-Priming system via pump-set mounted compressor
-Driven by the pump shaft via a belt and pulley arrangement
-Fabricated suction tee, hot dip galvanised
-Cast machined suction tee top hat
-Fitted with hose fittings and check valve for protection from back-flow of water into compressor
Ancillary items fitted
-Ball check valve / reflux valve on pump discharge
-Fuel filler/breather, standard MTP type
-Mechanical fuel gauge
-Fuel inlet and return lines fitted to engine
-Fuel drain point, engine sump drain and radiator drain lines fitted to end of base with ball valves for service accessibility
-Battery, battery box and cables
-Lockable battery & starter isolation switch
-2x LED flood lights
-1x green flashing beacon (engine run light)
-Emergency stop fitted
-Flow switch fitted to suction pipe spool for shutdown protection at no flow
-Air release valve fitted on discharge pipe highest point
-9kg dry powder ABE type fire extinguisher
-Compound gauge on suction pipe, pressure gauge on discharge pipe
Clean water
Sea water
Raw water
Process water
Waste water
Sewage
Hazardous fluids and corrosive liquids