A vital component of mining and civil works is the use of Water Cart Trucks to provide mobile dust suppression. To maximise the 2 main benefits of dust suppression, that is an increase in both productivity and safety, it is important to choose the right system components.
The Stalker ISO Hydraulic Driven Water Cart Series is the ideal choice for Water Cart Trucks. The Stalker name is synonymous with robust, fit-for-purpose equipment and the Water Cart Series is no exception.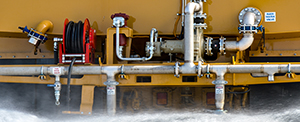 The pump is a 100% locally manufactured ISO standard pump, built Stalker tough. The pump has been modified for a splined shaft and is close coupled by way of a two bolt SAE mounting to a matched hydraulic motor. The finished unit provides a reduced footprint compared to a conventional long coupled pump set, saving approximately 200mm in length, while the close coupling removes any potential alignment issues, negating the need to employ a specialist to align couplings, or the need to hold stock of replacement couplings.
Put simply, the end result is improved operational watercart availability. The Stalker ISO unit can potentially save you time compared to servicing conventional water cart truck units, while also eliminating workshop down time as the pump and motor can be quickly changed out on site in the event of a breakdown.
Case Study – Achieving Greater Efficiency in Dust Suppression Pumps
Malcolm Thompson Pumps recently completed a 2 year pump product refinement program with a leading OEM of Mining Water Carts…….Read our case study in detail here.
Download our Mobile Dust Suppression brochure here.
Call us on 1800 439 607 or Make an inquiry on the "ISO Series Pumps – Hydraulic Driven" (see below) by clicking here