Grundfos

Why Choose Grundfos?
Grundfos was established in 1945 by the late Poul Due Jensen, with the aim of becoming the world's leading pump manufacturer. Grundfos is continually striving to introduce outstanding new pumps and pumping systems that satisfy the markets' needs for effective, reliable and energy-efficient solutions.
Grundfos has a diverse range of pumps designed to assist you in maintaining the operation of your  industrial utilities from boiler, heating and cooling systems to fire protection and water treatment.
Their pump selection for municipal wastewater is built on reliability, modularity and energy-efficiency, ensuring that pumps, controls, dosing and disinfection solutions and pressure management work together for optimal water efficiency.
In addition, their range of pumps for leach, surface and underground mining processes ensure your operations are not disrupted, designing pumps that are robust and reliable.
MTP is Your Trusted Certified Grundfos Australian Distributor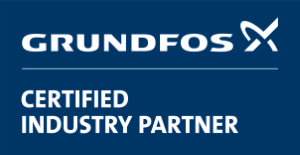 Malcolm Thompson Pumps is proud to be one of the oldest and largest Grundfos distributors in Australia. We partner with Grundfos, a leading global pump brand, to provide you with high quality pump solutions.
Our range of Grundfos products includes:
Circulators Pumps
Submersible Wastewater Pumps
Submersible Groundwater Pumps
End Suction Long Coupled Single Stage
End Suction Close Coupled Single Stage
Diaphragm Pumps
Pump Controllers
Borehole Pumps
Booster Systems
Accessories
We also have certified Grundfos pump service centres.
Why choose MTP as your Grundfos Pump Provider in Australia?
Extensive experience and technical knowledge on the Grundfos product range
Certified Grundfos service centres that provide service and repairs across the Grundfos pump range
Engineering and Design Department that can design, fabricate, build, supply, install and commission a large range of engineered Grundfos pump packages
Branches spanning across Australia which consist of friendly and knowledgeable staff ready to assist with your enquiries
Our Recent Grundfos Projects
Our team are highly accustomed to completing a variety of Grundfos projects for our clients across Australia.
Grundfos Pump System Upgrades
Grundfos Borehole and Dosing Pump Packages
Grundfos Pressure System Replacements
Grundfos Dewatering Pump Repair
Call our team today on 1800 439 607 or submit an enquiry to learn more about our Grundfos products and services.