ISO Hydraulic Driven Pump Systems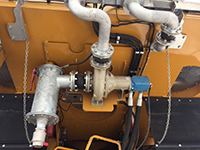 Malcolm Thompson Pumps has been providing pumps and pump packages to Australian industries for over 40 years, with proven experience across mining, agriculture and construction.
ISO Hydraulic Driven Pump Systems are specifically designed for mobile dust suppression, and can be fitted directly onto existing water cart trucks. The system features a 2 bolt SAE flange mounted easy on/off hydraulic motor with a quick coupling arrangement.
The main advantage of the ISO Hydraulic Driven design is that it eliminates the need to carry couplings in stock or have a specialist on hand to align them. Furthermore, the speed of dismounting and remounting the unit onto the water cart itself reduces the time taken to service the pump, while at the same time, reducing the costs associated with scheduled servicing.
The end result is a pump system that will increase productivity and save you money.
Build Features & Options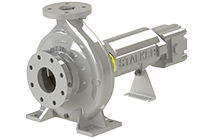 • 2 bolt SAE flange mounted easy on/off hydraulic motor
• Spline shaft drive arrangement
• Medium speed, medium pressure and high speed, high pressure hydraulic drive option
• Suction size: 100NB – 150NB
• Discharge size: 65NB – 125NB
• Flow range: 15 – 135L/s
• Head range: 26 – 70m
• Hydraulic drive output power: 20.5 – 126kW
• Operating speed: 2000 – 2400rpm
• Various construction materials available
Pump service & repair
• Strip and assessment
• Pump shroud repairs and motor repairs, rebuilds and replacements
• Fully equipped workshops in Perth, Kalgoorlie and Sydney
Recent Projects