Pump Service Centres
At Malcolm Thompson Pumps we operate 3 Pump Service Centres in Sydney, Perth and Kalgoorlie. Each Pump Service Centre is set up to service, repair and test pumps in the shortest timeframes possible, in the most cost effective manner.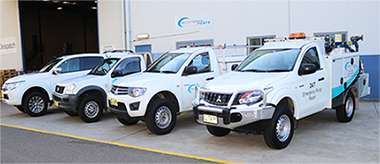 With over 50 years' experience in providing all types of pumps and pump servicing in Australia, we can provide you with the service and products you require to keep your pumps in optimum operational performance always.
Download the MTP service centre brochure here.
Our Workshop Capabilities
Pump assessment and rebuilds to restore pump performance
Overhaul of electric motors and mechanical seals
Dynamic balancing of impellers and rotors
Application of metallic and ceramic coatings
Manufacture/ supply of replacement components
Manufacture of galvanized baseplates
Manufacture of painted or powder coated coupling guards
Assembly of pump sets with electric motors of diesel engines
Spray painting
Performance testing of pumps
On-Site Service
Periodic inspections
Customised service agreements
Trouble on problem pumps and systems
On-site overhaul of pumps and motors
Installing and commissioning all types of pumps
Engineering Support
System analysis
Root cause analysis of failures
Drafting capabilities utilising CAD packages
Mechanical and hydraulic upgrades to existing equipment
WA – Perth

Our Perth pump service centre specialises in the service, repair and installation of pumps on-site and in-house for all industries including Mining, Oil and Gas, Manufacturing and Chemical industries.

1st Floor, Unit 1/33 Colquhoun Road, Perth Airport, WA 6105

Phone: (08) 6462 7755

Email: sales@mtp.com.au

NSW – Sydney

Our Sydney pump service centre specialises in emergency service and repair and preventative maintenance for strata and building services, commercial real estates, pubs, clubs and hotels, shopping centres, schools, retirement villages and domestic premises.

31 Powers Road, Seven Hills, NSW 2147

Phone: (02) 9830 2250

Email: sales@mtp.com.au
Other States
We can also provide pump service and repairs in other states: QLD, VIC, SA and TAS. Please phone 1800 439 607 for further information.