Achieving greater efficiency in Dust Suppression Pumps
Malcolm Thompson Pumps recently completed a 2 year pump product refinement program with a leading OEM of Mining Water Carts.
Problem
The program refinements involved the development of an internal spline drive of Stalker ISO Hydraulic Driven Water Truck Pumps. The pumps were supplied to one of Australia's largest OEM manufacturers of mobile spray systems and were used as an integral part of their latest computer controlled dust suppression spraying system. These are designed for all sizes of water cart trucks, which supply mobile dust suppression to mine sites.
The spraying technique aims at boosting water cart efficiency, which is an important factor for any mine site.
Solution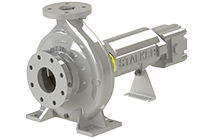 The client was particularly interested in utilising the MTP engineering and development program. The Stalker ISO pump platform incorporates material options, engineering flexibility and a consultative approach for product improvement. The Stalker ISO pump is close coupled. This effectively eliminates the time constraints and labour involved in the alignment of the pump to the hydraulic motor in a long coupled version. The close coupled design, provides a pump set with less weight and a smaller footprint. This facilitates reduced installation times and service inspection intervals particularly for the coupling drive on their specific sites.
Results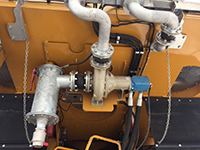 The Stalker ISO derived pump allowed the water cart manufacturer to better manage their water cartmobile spray systems. The ISO Hydraulic Driven range features a 2 bolt SAE flange mounted, easy on/off hydraulic motor allowing for fast and simple motor mounting and replacement. The development program has been a resounding success with many mine sites benefiting from the elimination of misalignment, the reduction of service times and reduction of costs associated with maintenance services. With the completion of the product refinement development program, Malcolm Thompson Pumps are rolling out the Stalker ISO Hydraulic Driven pumps "Water Cart Series", Australia wide.
Click here to learn more on the ISO End Suction Centrifugal Pump used for mobile dust suppression.