LSH Series – Bare Shaft Pumps
Based in Perth, WA, Stalker Pumps have been proudly manufacturing pumps since 1923. MTP is proud to be the exclusive distributor of the Stalker Pump range.
Stalker's LSH Series is one of Stalker's most well-known end suction, centrifugal pumps.
The LSH Series is commonly used in applications such as irrigation, agriculture and fire-fighting across Australia. This bright red pump range can be customized to suit your requirements and includes low-lift (LL), semi-high-lift (SHL) and high-lift (HL) ranges.
The bare shaft range has a maximum flow of 46L/s and maximum head of 118m. With an adjustable discharge position, this pump is robust and reliable.
Manufactured at our ISO 9001 certified manufacturing facility in Perth, the LSH Series provides you with added peace of mind that thorough quality control and testing has been followed at every stage of the manufacturing process.
The Stalker Pumps LSH Series is also available in motor pumps and hydraulic driven motor pumps.
Features
Applications
Curves
Tech Specs
Max flow 46L/s
Max head 118m
Adjustable discharge position
Robust construction
Gland packing
Mechanical seal arrangement options
Max temperature with standard mechanical seal arrangement is -10°C to 120°C
Agriculture
Dust suppression
Fire fighting
Water transfer
Irrigation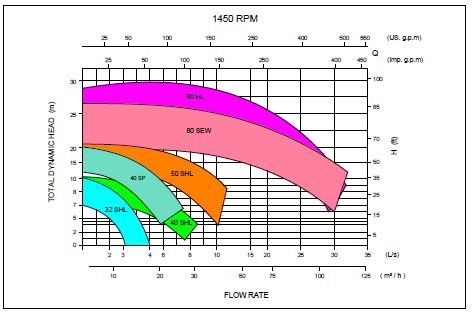 Model
Suction (mm)
Discharge (mm)
Min Impeller (mm)
Max Impeller (mm)
Pump Frame Size
Pump Weight (kg)
Max Operating Speed (rpm)
Shaft sealing**
Part Number CI/CI*
(Without base)
Part Number CI/BR*
(Without base)
Part Number BR/BR*
(Without base)
32SHL
40
32
140
173
YP-1
27
3000
PG
1800–250111
1800–250211
1800–250311
40SHL
50
40
145
175
BP-1
45
3000
MS
2200–020121
2200–020221
2200–020321
50SHL
65
50
190
238
CP-1
75
3000
MS
3300–030122
3300–030222
3300–030322
40SP
50
40
203
236
BP-1
48
3300
MS
2300–020121
2300–020221
2300–020321
80HL
100
80
260
290
DP-1
80
3000
PG
5100–040112
5100–040212
5100–040312
80SEW
80
80
190
190
CP-1
63
1450
MS
5000–040121
5000–040221
5000–040321
100HL
150
100
280
368
510
129
2200
MS
6000–050122
6000–050222
6000-050322
Notes: *CI = Cast Iron, BR = C90810 zinc free bronze
**PG = Packed gland braided graphite PTFE impregnated, MS = Carbon/Ceramic/NBR unbalanced mechanical seal