2019 Asia-Pacific's International Mining Exhibition
The team at Malcolm Thompson Pumps are excited to be exhibiting for the first time at AIMEX. AIMEX will be held from the 27-29 August 2019 at Sydney Showgrounds and is a free to attend event where Australian and international suppliers of mining technology, equipment and services come together with mining industry buyers and specifiers from throughout the Asia-Pacific region.

Whats on display
Stalker Super Heavy Duty (SHD) Pump
Primarily designed for underground mine dewatering applications, the SHD End Suction Centrifugal Pump has significant benefits over current market players. This includes solids handling, flow rate, serviceability underground, pump replacement availability and a reduced maintenance schedule. Due to its materials of construction, it also has the capacity to handle abrasive, non-clean fluids and slurry.
Stalker ISO Hydraulic Driven Pump
Ideally used on water cart trucks, the Stalker ISO Hydraulic Driven Pump is specifically designed for mobile dust suppression as it can be fitted directly onto existing water cart trucks.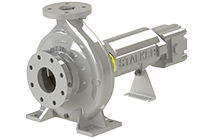 The main advantage of the ISO Hydraulic Driven design is that it eliminates the need to carry couplings in stock or have a specialist on hand to align them. The system features a 2 bolt SAE flange mounted easy on/off hydraulic motor with a quick coupling arrangement. The speed of dismounting and remounting the unit onto the water cart itself reduces the time taken to service the pump as well as reduces the costs associated with scheduled servicing.
Malcolm Thompson Pumps are proud to have over 50 years' experience providing pump solutions to Australian Mining. Our ongoing relationships with all major mining companies, mine sites and consultants across Australia have allowed us to deliver pumping solutions for the most rugged and varied mining conditions.
To find out more about our mining capabilities, be sure to say hello to our team at Stand Q107.