The Flexible Piping System for Groundwater Extraction
Malcolm Thompson Pumps understands the importance of having the appropriate piping system when obtaining underground water in the mining industry. With the challenging conditions of dewatering a common problem on mine sites, the Aquaplus Oroflex Well flexible piping system is designed to provide the perfect solution to groundwater extraction.
Malcolm Thompson Pumps is proud to be the exclusive distributor of Aquaplus. Aquaplus is a well-established pump brand in the Australian market, designing high quality industrial pumps for a diverse range of industries. This Aquaplus Oroflex Well product line is an extension of our high quality pump range. The brand's commitment to reliability and durability has ensured continued growth in the pump market in Australia and overseas.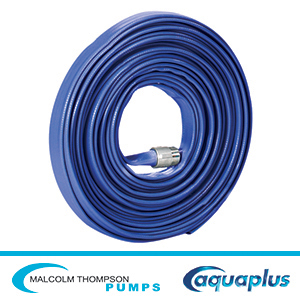 The Aquaplus Oroflex Well flexible piping system is designed to help owners get the most out of their resources, providing not only ease of handling but better performance and long term cost savings.
A noticeable advantage of the lightweight Aquaplus Oroflex Well flexible piping is it is much easier to handle, deploy and retrieve than rigid tubing. This drastically reduces the time and cost involved when installing submersible pumps. Additionally, the Aquaplus Oroflex Well can easily be installed in irregular wells as it can be installed with a centering device.
Not only can it be installed in irregular wells, the Aquaplus Oroflex Well permits a higher water flow in narrow wells. The piping system is produced in one single length, which makes it possible to install piping of a larger diameter compared to rigid tubes.
The low maintenance and a long service life contribute to the outstanding performance of the system. This is enhanced by its high resistance to corrosion and scaling. The flexible tubing is made of polyurethane and high-tenacity polyester yarn, which does not corrode.
The Aquaplus Oroflex Well system will also bring economic benefits due to its energy saving costs, and other operating advantages such as low maintenance expenses and long term life. In particular, the energy costs are reduced in comparison with steel tube and PVC systems, due to the low friction loss and consequent efficient operation of the pump.
In comparison to other conventional installations of piping systems, the Aquaplus Oroflex Well system consists of flexible piping, a complete selection of couplings and accessories which is designed to make the installation of pumps on mine sites easy and quick.
The Aquaplus Oroflex Well flexible piping system is available now and can be ordered directly from Malcolm Thompson Pumps.