A pontoon pump upgrade for a Kalgoorlie mine site
Our Kalgoorlie branch were pleased to have recently been involved in the installation of a Pontoon Mounted SHD Pump Package for a local Gold Miner within the Kalgoorlie region.
Pontoon Pump Packages are becoming more and more common for mine site dewatering with an increase in Australian mine sites opting for this pump package alternative.
Downsides to existing pontoon pump system
Our client was using a stainless steel submersible pump which was operating below water, while being connected to a floating pontoon.
Having the pump below water was very impractical for our client, with a lot of labour being put into lifting the pump every time it had to be serviced, or replaced.
A significant downside to this pump system was having to replace the pump every 3-6 months. With the demand of the pump exceeding the capacity it could handle, even on extended hours of operation, the mine sites productivity was drastically being impacted.
A more feasible and heavy duty dewatering solution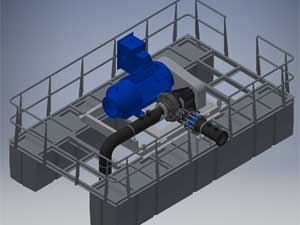 The impact their existing pump had operationally and financially was causing a lot of strain on the mine site and had them looking for an alternative.
The solution was MTP supplying an End Suction Centrifugal SHD Pump that was belt driven by an electric motor and packaged on a base frame.
Being supplied with a new pontoon allowed the pump to be above water alongside the motor. This resulted in our client not needing an increase in labour to lift the pump when a service or replacement was needed. It also allowed there to be a sufficient amount of walking space when a service or replacement was needed.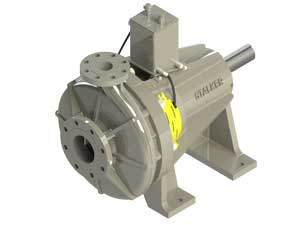 The selection of the Stalker Pump greatly suited the environment of the mine site. The Stalker SHD range are heavy duty pumps that suit mine dewatering applications due to their ability to handle aggressive and abrasive liquids.
With the pump coming in a variety of material options, the MTP team choose H3C stainless steel as the most appropriate material option for this type of job. The internals were also coated with ceramic coating to further extend the wet end components life.
Additionally, our client was in desperate need of a pump with greater flow. The SHD pump has a flow rate from 20 to 120 L/s which greatly outweighs the flow rates of standard pump dewatering units.
Learn more about the Stalker Pumps SHD range here.  
A newly installed pontoon pump system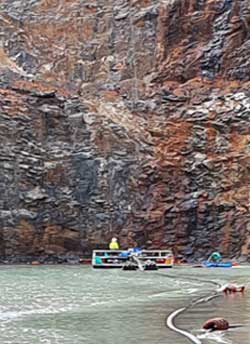 On the day of commissioning, our Service team delved 140 metres deep into the mining pit where they then travelled by boat to get to the pontoon.
Our team worked with the site crew to do all commissioning checks, a full review of the package installation setup, alterations to the pipework setup and pre-start checks.
Start-up and operational parameters were set up by working with the site crew to ensure safe and reliable pump operation and safety shutdowns.
Our Engineering and Service teams are accustomed to these types of installations. We are seeing an increase in enquiries from Mining Managers who are seeking an alternative to their traditional dewatering pump units.
When selecting this type of pump unit it is important to consider the long term advantages of investing in a durable pump. The Stalker SHD Pump Range offers the perfect solution in achieving high capacity and better performance as well as low maintenance and reduced operating cost.
Contact our team today to discuss your mine site dewatering needs.