Customised Pump Package for a WA Mine Site
The Project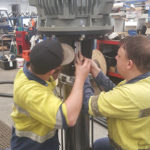 The customer required a replacement pump set and specified it to be a Grundfos Vertical Multistage CRN64-8 wet end and an oversized electric motor.
Given the high specific gravity of the fluid to be pumped, the electric motor selected for this application needed to be up-sized from a 45kW to a 55kW, 2 pole.
Additionally, as the upsized electric motor was to be used in a vertical, outdoor application, the Toshiba motor needed to be equipped with drive end angular contact bearings and a rain hood. MTP specially designed and manufactured a motor adapter bracket to allow the oversized motor to be fitted to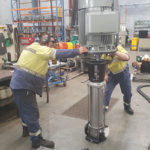 the Grundfos wet end. The motor and wet end were fitted in MTP's fully equipped workshop, utilising their overhead crane and specialised equipment.
The Results
MTP successfully built the customised pump set according to the customer's requirements using the specific pump, motor, model and brand requested by the customer.