Delivering a leading Mine Dewatering Pump System

MTP recently had a high profile mining client requesting a dewatering pump system for one of their WA mine sites.
Proposed Pump System Uncertainty
MTP has previously worked with this client on a number of significant mining projects.
On this occasion, they requested a quotation for a diesel driven pump package that will be used for mine site dewatering.
Based on our initial tender submission, our client was hesitant as to whether the proposed Stalker APC Pump Unit would be a suitable choice due to the duty requirements of the application.
MTP were confident they could meet the task as the client already has a number of Stalker APC units installed at various mine site locations.
Successful Testing of Dewatering Pump System

The testing results proved to be successful with the unit providing the performance and duty needed.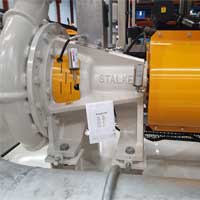 The next steps involved our Engineering and Design team working with our client to design a pump package using the latest technology including AutoCAD software.
The pump required for the APC Diesel Driven Package was the Stalker Super Heavy Duty (SHD) which is manufactured at our Perth, WA foundry. Our Stalker foundry provides many benefits for our Australian clients with quicker lead times and greater flexibility in materials being the main advantages.
The choice of material for the SHD pump was Ductile Iron. Ductile Iron is commonly used for mine dewatering as it provides superior strength in comparison to regular cast iron (grey iron) due to the graphite in the iron. Its tensile strength starts at 60,000 psi and can go up to 120,000 psi, creating greater wear resistance and durability.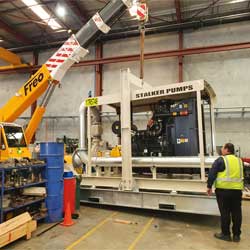 In addition to the above, this Stalker APC pump system was also fitted with:
• A cartridge mechanical seal with barrier fluid tank lubrication
• An auto-priming system via a compressor mounted on the pump set
• An engine wheel flexible coupling
• A QSX15 Cummins Diesel Engine
Completion of Diesel Driven Pump System
Once the manufacturing of this pumping system was completed at our workshop, our team conducted pump performance testing. Performance testing of our pumps is a key function for all our projects and is a way to demonstrate to our client that the pump is per specifications as indicated in the purchase order.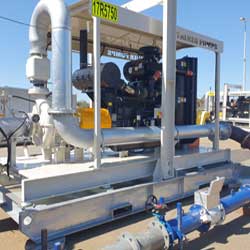 Our team also transferred all the documentation deliverables for this specific project which included scope of project, outline of responsibilities, design package and design drawings.
The result of this project was successful with our team designing and manufacturing a high performing dewatering pump unit.
With a fully equipped workshop, state of the art foundry and an experienced and skilful Engineering team, MTP provides a full service project offering for dewatering pump systems.
If you are interested in knowing more about our dewatering pump packages, get in touch with our team today.