Why you should invest in quality mining pumps
What the team at MTP are realising is that more and more of our clients are moving away from traditional Progressive Cavity (PC) mining pumps and instead, are focused on investing in more durable and high wear resistant pump applications.
This was the case for an international underground mining services company who came to MTP for a solution to their continuous issues revolved around their PC pump.
Problem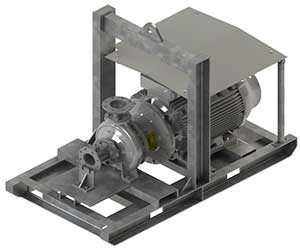 Our client was using a traditional PC Pump Underground Dewatering Pod System. Though this type of pump system has been around for a while, some key concerns around cost, time servicing and repairing the equipment had our client looking for an alternative. Additionally, they were spending approximately $180K per month on the maintenance of the pump fleet to ensure it was working to an appropriate standard within the tough conditions commonly found in underground mining.
A solution to these issues was undoubtedly required, and from there the challenge for MTP was to shift our client's mindset from using a traditional PC pump unit to investing in a Stalker Chrome Iron Centrifugal Pump Series that provides excellent value for money due to its longevity and high wear resistance.
Solution 
An underground dewatering pod system is critical in ensuring mine sites don't flood therefore it is vital to have a reliable and durable unit. With the guidance of MTP's Engineering and Design team, a new type of unit was developed that outshines traditional PC pumps through its ability to handle abrasive and corrosive liquids as well as a dramatic increase in wear life.
The solution was the Stalker ISO Chrome Iron Motor Pump. Not only is this pump engineered and manufactured at the Stalker foundry in Perth, Western Australia, its features really highlight how well the Stalker Pumps team researched, designed and engineered a pump system that suited the challenges found in underground dewatering.
What's so powerful about this series is its material of construction. The pump is manufactured from 27% Chrome Iron which allows it to handle abrasive, fibrous and corrosive liquids and improves both reliability and productivity within the mine site.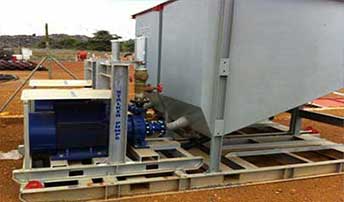 Mounted on a skid frame, the unit has the ability to be moved across all types of equipment found within underground mine sites. The change over from the existing set up of the PC Pump to the ISO Chrome Iron Motor Pump is drastically quick and the process of repairing or replacing the pump onsite is very simple. It also has the ability to outperform the discharge flow of a PC pump.
Additionally, MTP are able to retro fit existing tanks to match the new Stalker Pumps unit. This provides greater practicality and value for our clients knowing their existing tank systems are able to adapt to newly developed pump units.
Results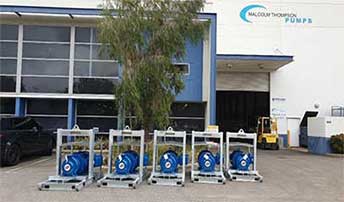 Our client has made significant savings in maintenance costs, with approximate savings of $150K per month on troubled sites. What's more noteworthy is the minimal downtime experienced due to the increased wear life and material of construction of the pump. This has greatly improved the productivity across all of our clients mine sites, with their staff being highly impressed by MTP and the Stalker product.
The Stalker ISO Chrome Iron Series has been installed in underground mining operations for over 15 years, with proven reliability and quality expected from an Australian manufactured product.
Discuss the Stalker ISO Chrome Iron Motor Pump with our team today.