Why MTP Perth are your Flow Meter Specialists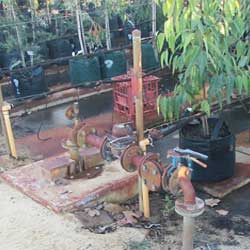 At Malcolm Thompson Pumps, our Perth Service team are a contracted and certified supplier of flow meter products and services. We complete hundreds of flow meter repairs, replacements as well as routine services per year for a wide range of agricultural clients across Western Australia.
With over 50 years' experience, our Technicians have the expertise, skills and resources to provide our clients with a wide range of flow meter solutions to ensure accurate water measurement. This includes:
Service – Installation, Maintenance, Calibration and Service and Repair
Flow Meter Products – Paddle wheel irrigation meters, turbine meters, ultrasonic meters and mag flow meters
Flow Meter Brands – We supply and service all types of flow meter brands including Bermad, Triangle and Arad WSP
A Failed Flow Meter Test
On this occasion, our Perth Service Technicians travelled to Bullsbrook, WA to investigate our client's flow meter located on their tree farm.
The performance of the flow meter was determined by performing a flow meter test. Flow meter tests are an essential service that our team perform as it shows whether there is measurement inaccuracy and ensures the flow meter is correctly calibrated before it begins operation.
Once this test was completed, our team analysed the results and determined that the flow meter was underperforming. In particular, they found the external and internal condition of the flow meter to be extremely poor as well as the impeller being worn out and constantly jamming.
Triangle Waterquip Flow Meter Replacement
With the flow meter failing its test, our Service Technicians decided it would be best to replace with a brand new flow meter. This included a new Triangle Waterquip 50mm flow meter and new parts including eight washers, two security seals and two gaskets.
Whilst we needed to replace the flow meter on this occasion, our Service Technicians do regularly conduct repairs in our workshops depending on the flow meters condition. While the flow meter is being repaired, our team are able to install a bypass which allows the site to continue operation and minimise downtime.
A key component to our service work is performance testing. After installing the new flow meter, we ensured it was set up and performing correctly by conducting thorough testing prior to confirming completion of the job.
Achieving Accurate Water Measurement
Our client now has a fully functional flow meter system that is performing consistently to our client's needs.
Our Perth team are highly accustomed to completing flow meter service projects. We work with the landowners to achieve the best results with short lead times and enhanced productivity in mind. We adapt to our clients situation, whether their pipework has changed or if they are in need of an urgent service.
We highly encourage our clients to have a routine service plan in place to avoid flow meter performance failure. Generally, flow meters should be serviced every 2-3 years depending on its age and its condition.
Contact our Perth Service team today perthservice@mtp.com.au or call us 1800 439 607 to book in a flow meter inspection.