Split Case Unit Replacement for an Australian Defence Department
Malcolm Thompson Pumps was asked to replace a high volume pump station for an Australian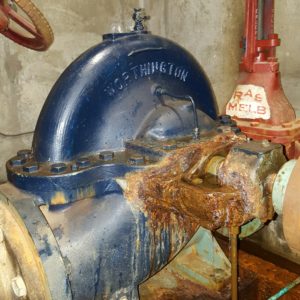 Department of Defence base.
The Project
The base engaged Emavale Plumbing Pty Ltd. to inspect a split case pump unit that had had a long life being used to wash aircraft upon landing. This 20-year-old high volume transfer system was providing poor efficiency and was clearly in need of replacement, so the plumber contacted Malcolm Thompson Pumps to tailor a completely new system. Due to the base's large and busy operations, this pump system would require a short lead time as well as excellent cost efficiency in the short and long term. Another important condition was that spare parts must be readily available for ongoing maintenance and repair.
The Solution
Beginning with an in-depth onsite assessment, the specialist team at Malcolm Thompson Pumps set about engineering a solution. A standard replacement unit for the split case system would have proven costly and involved a substantial lead time, so after taking precise measurements at the base we designed and proposed a bespoke solution that would be more efficient – both in time and cost. This new pump station, designed using the latest AutoCAD software, incorporated a Southern Cross ISO build with custom suction and discharge pipework using quality stocked parts from our Sydney branch. Once approved, our team started work on fabrication and assembly with a rapid turnaround.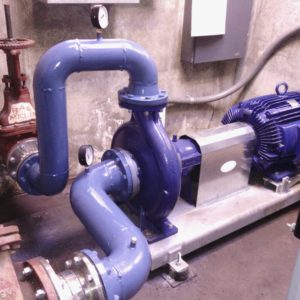 The Results
Within a short time frame the new ISO end suction pump was installed, performance tested and placed in service. The client was highly satisfied with the outcome, with the new pump system installation providing a dramatic increase in efficiency both in power consumption and in water discharge. Any repairs and maintenance can now be readily performed by our experienced personnel, supported by our spares readily available.
Our specialists repair, maintain and design process and transfer pump systems, borehole pump systems and dewatering pump systems for maximum efficiency. For a tailored solution for your project, contact Malcolm Thompson Pumps now on 1800 150 428.