Stalker Super Heavy Duty Pump, the right solution for underground mining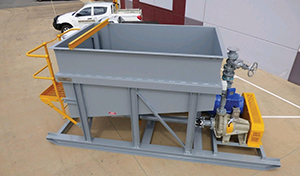 Late 2017, Malcolm Thompson Pumps (MTP) supplied a Stalker Super Heavy Duty (SHD) Pump to Murray Engineering for use on an underground mining site in Kambalda, Western Australia.
Traditionally, mine operators have relied on progressive cavity pumps (PCP's) to dewater underground as they are able to deliver a set volume to a reasonably high head. A standard centrifugal pump, which is able to deliver the flow required, will be limited in head due to rotational speed constraints.
The SHD Series offers a unique solution for this application, as it can run up to 2900RPM with impeller diameters greater than 400mm and, due to its material of construction, has the capacity to handle abrasive, non-clean fluids.
Problem

This particular mine site required a dewatering pump to extract water from up to 150m underground and flows up to 40LPS (around double the capacity of a PCP). The liquid had an extremely high salt content combined with very aggressive mine water. This combination, coupled with a varying percentage of solids in the water, resulted in an aggressive solution being pumped.
Solution
In close consultation with the team at Murray Engineering, MTP's sales team offered the Stalker Super Heavy Duty (SHD) Pump. MTP supplied a 125×80-400 Chrome Iron SHD pump, which matched the combined performance of two PCP's in both head and flow. Despite the SHD being able to run at 2 pole speed, it was decided to belt drive the pump, allowing for a change in output, if required.
Results
The SHD Pump has been in service for 17 months and, to date, has not had a spanner put to the pump. Typically PCP's in this application would need to be overhauled and are serviced approximately 6 times during the same period, along with the gland packing requiring daily checks and tightening.
The Stalker SHD Series is supplied with a 30 Bar rated, Duplex SS construction, single balanced cartridge slurry mechanical seal, which is lubricated via the quenching chamber and doesn't require any manual adjustment or leaking issues like a gland packing. Furthermore, this seal arrangement gives the Stalker SHD Series the ability to pump non clean fluids and offers the pump short term run dry protection.
Murray Engineering was very impressed with both MTP and the Stalker product, with the SHD pump outperforming expectations, achieving an outcome beyond anyone's expectations and resulted in Murray Engineering purchasing an additional unit in early 2018.