ESD Series - Bare Shaft Centrifugal Pumps
The Aquaplus ESD Series DIN Pumps are reliable end suction pumps manufactured to the international standard DIN 24255 (EN 733). Aquaplus ES Series DIN Pumps are suitable for a wide range of applications and industries.
MTP is proud to specialise in this range and carry extensive stock Australia wide.
Aquaplus ESD Series Pumps are also available in Long Coupled or Close Coupled configurations.
Extensive stock holdings Australia-wide
Features
Applications
Curves
Tech Specs
Back pull-out facility
Maximum operating pressure 1600kPa
Maximum speed varies between 1500 RPM and 3600 RPM dependant on pump size and method of drive
Maximum temperature with packed gland shaft sealing arrangement -10°C to 105°C
Cast metal casing with integrally cast feet
Re-usable casing o-rings
Shaft carried in grease lubricated bearings (oil lubrication available on request)
Cast iron bearing housing
Shaft sealing is standard as mechanical seal with stainless steel shaft sleeve (packed gland available on request)
Double shrouded impeller design
Replaceable wear rings fitted to all volutes
Removable support foot at drive end for greater rigidity
Pumps manufactured to the German Standard DIN 24255 (EN 733)
NOTE: Product information should be used as a guide only and should not be used for pump selection. For further information, please contact Malcolm Thompson Pumps on 1800 439 607.
Circulating of liquids
Condenser water
Heating water
Fire protection
Building services
Irrigation
HVAC
Commercial swimming pools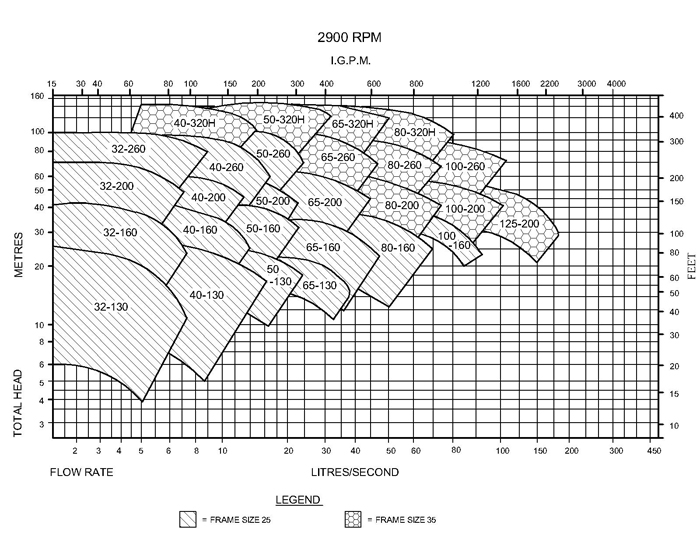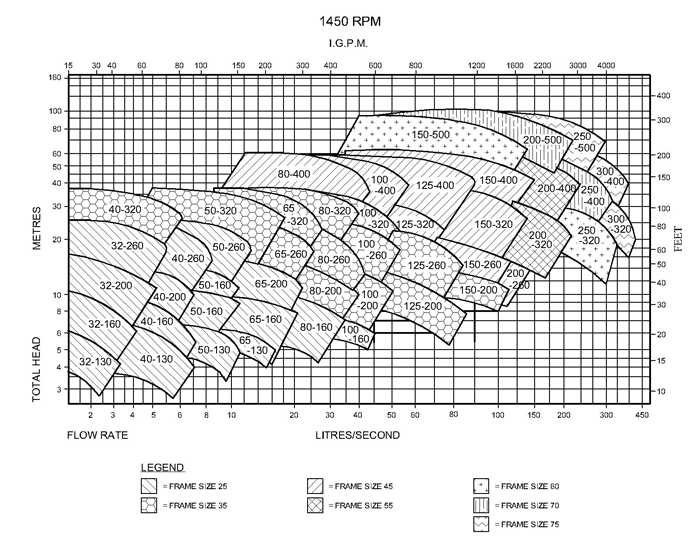 Part Number
Suction (mm)
Discharge (mm)
Max Impeller (Ø mm)
Casing Material
Impeller Material
Frame
Max Operating Speed (RPM)
ESDB-32-130-S1152
50
32
139
Cast iron
Cast iron
25
3600
ESDB-32-160-S1152
50
32
174
Cast iron
Cast iron
25
3600
ESDB-32-200-S1152
50
32
214
Cast iron
Cast iron
25
3600
ESDB-32-260-S1152
50
32
264
Cast iron
Cast iron
25
3600
ESDB-32-130-S1110
50
32
139
Cast iron
Zinc free bronze
25
3600
ESDB-32-160-S1110
50
32
174
Cast iron
Zinc free bronze
25
3600
ESDB-32-200-S1110
50
32
214
Cast iron
Zinc free bronze
25
3600
ESDB-32-260-S1110
50
32
264
Cast iron
Zinc free bronze
25
3600
ESDB-32-130-S1150
50
32
139
Cast iron
Stainless steel
25
3600
ESDB-32-160-S1150
50
32
174
Cast iron
Stainless steel
25
3600
ESDB-32-200-S1150
50
32
214
Cast iron
Stainless steel
25
3600
ESDB-32-260-S1150
50
32
264
Cast iron
Stainless steel
25
3600
ESDB-40-130-S1152
65
40
139
Cast iron
Cast iron
25
3600
ESDB-40-160-S1152
65
40
174
Cast iron
Cast iron
25
3600
ESDB-40-200-S1152
65
40
214
Cast iron
Cast iron
25
3600
ESDB-40-260-S1152
65
40
264
Cast iron
Cast iron
25
3600
ESDHB-40-320-S1152
65
40
329
Cast iron
Cast iron
35H
2900
ESDB-40-320-S1152
65
40
329
Cast iron
Cast iron
35
2300
ESDB-50-130-S1152
65
50
139
Cast iron
Cast iron
25
3600
ESDB-50-160-S1152
65
50
174
Cast iron
Cast iron
25
3600
ESDB-50-200-S1152
65
50
214
Cast iron
Cast iron
25
3600
ESDB-50-260-S1152
65
50
264
Cast iron
Cast iron
25
3600
ESDHB-50-320-S1152
65
50
329
Cast iron
Cast iron
35H
2900
ESDB-50-320-S1152
65
50
329
Cast iron
Cast iron
35
2300
ESDB-40-130-S1110
65
40
139
Cast iron
Zinc free bronze
25
3600
ESDB-40-160-S1110
65
40
174
Cast iron
Zinc free bronze
25
3600
ESDB-40-200-S1110
65
40
214
Cast iron
Zinc free bronze
25
3600
ESDB-40-260-S1110
65
40
264
Cast iron
Zinc free bronze
25
3600
ESDHB-40-320-S1110
65
40
329
Cast iron
Zinc free bronze
35H
2900
ESDB-40-320-S1110
65
40
329
Cast iron
Zinc free bronze
35
2300
ESDB-50-130-S1110
65
50
139
Cast iron
Zinc free bronze
25
3600
ESDB-50-160-S1110
65
50
174
Cast iron
Zinc free bronze
25
3600
ESDB-50-200-S1110
65
50
214
Cast iron
Zinc free bronze
25
3600
ESDB-50-260-S1110
65
50
264
Cast iron
Zinc free bronze
25
3600
ESDHB-50-320-S1110
65
50
329
Cast iron
Zinc free bronze
35H
2900
ESDB-50-320-S1110
65
50
329
Cast iron
Zinc free bronze
35
2300
ESDB-40-130-S1150
65
40
139
Cast iron
Stainless steel
25
3600
ESDB-40-160-S1150
65
40
174
Cast iron
Stainless steel
25
3600
ESDB-40-200-S1150
65
40
214
Cast iron
Stainless steel
25
3600
ESDB-40-260-S1150
65
40
264
Cast iron
Stainless steel
25
3600
ESDHB-40-320-S1150
65
40
329
Cast iron
Stainless steel
35H
2900
ESDB-40-320-S1150
65
40
329
Cast iron
Stainless steel
35
2300
ESDB-50-130-S1150
65
50
139
Cast iron
Stainless steel
25
3600
ESDB-50-160-S1150
65
50
174
Cast iron
Stainless steel
25
3600
ESDB-50-200-S1150
65
50
214
Cast iron
Stainless steel
25
3600
ESDB-50-260-S1150
65
50
264
Cast iron
Stainless steel
25
3600
ESDHB-50-320-S1150
65
50
329
Cast iron
Stainless steel
35H
2900
ESDB-50-320-S1150
65
50
329
Cast iron
Stainless steel
35
2300
ESDB-65-130-S1152
80
65
139
Cast iron
Cast iron
25
3600
ESDB-65-160-S1152
80
65
174
Cast iron
Cast iron
25
3600
ESDB-65-200-S1152
80
65
214
Cast iron
Cast iron
25
3600
ESDB-65-260-S1152
80
65
264
Cast iron
Cast iron
35
3600
ESDHB-65-320-S1152
80
65
329
Cast iron
Cast iron
35H
2900
ESDB-65-320-S1152
80
65
329
Cast iron
Cast iron
35
2300
ESDB-65-13-S1110
80
65
139
Cast iron
Zinc free bronze
25
3600
ESDB-65-160-S1110
80
65
174
Cast iron
Zinc free bronze
25
3600
ESDB-65-200-S1110
80
65
214
Cast iron
Zinc free bronze
25
3600
ESDB-65-260-S1110
80
65
264
Cast iron
Zinc free bronze
35
3600
ESDHB-65-320-S1110
80
65
329
Cast iron
Zinc free bronze
35H
2900
ESDB-65-320-S1110
80
65
329
Cast iron
Zinc free bronze
35
2300
ESDB-65-130-S1150
80
65
139
Cast iron
Stainless steel
25
3600
ESDB-65-160-S1150
80
65
174
Cast iron
Stainless steel
25
3600
ESDB-65-200-S1150
80
65
214
Cast iron
Stainless steel
25
3600
ESDB-65-260-S1150
80
65
264
Cast iron
Stainless steel
35
3600
ESDHB-65-320-S1150
80
65
329
Cast iron
Stainless steel
35H
2900
ESDB-65-320-S1150
80
65
329
Cast iron
Stainless steel
35
2300
ESDB-80-160-S1152
100
80
174
Cast iron
Cast iron
25
3600
ESDB-80-200-S1152
100
80
214
Cast iron
Cast iron
35
3600
ESDB-80-260-S1152
100
80
264
Cast iron
Cast iron
35
3600
ESDHB-80-320-S1152
100
80
329
Cast iron
Cast iron
35H
2900
ESDB-80-320-S1152
100
80
329
Cast iron
Cast iron
35
1800
ESDB-80-400-S1152
100
80
409
Cast iron
Cast iron
40
1800
ESDB-80-160-S1110
100
80
174
Cast iron
Zinc free bronze
25
3600
ESDB-80-200-S1110
100
80
214
Cast iron
Zinc free bronze
35
3600
ESDB-80-260-S1110
100