Aquaplus ISB Series Split Case Pumps
Aquaplus ISB Series Split Case Pumps feature high operating reliability, low maintenance costs and service-friendly design. They are primarily used for handling pure, raw and waste water.
MTP distributes and services a large range of split case pumps. If you're after a split case pump that is not shown below, feel free to give us a call and we can source your specific pump type or brand.
Features
Applications
Curves
Tech Specs
Dimensions
High operating reliability – Thanks to the double-entry impeller (compensating the axial forces) the load on the generously dimensioned, pre-loaded, maintenance-free bearings is minimal.
Low maintenance costs – The combination of solid bearing brackets, a short and rigid shaft, and pre-loaded bearings guarantees low vibrations and long operating lives of bearings, seals and coupling. Corrosion and abrasion resistant materials ensure top service lives for shaft protecting sleeves, impeller/casing wear rings, and impeller.
Service-friendly design – The self-centering upper part of the casing and the pre-loaded rotor enable cover and rotor assembly without any adjustments. For maintenance, the cover's hexagon head bolts are completely removed from the casing. The casing split flange can therefore be easily and thoroughly cleaned, and the inside of the pump is freely accessible.
Reliable sealing – The sold casing split flange at the upper and lower casing part ensures reliable and trouble-free sealing of the upper and lower casing halves.
For handling pure, raw and waste water as well as seawater in:
• Water works
• Irrigation and drainage pumping stations
• Power stations
• Industrial water supply
• Fire fighting systems
• Marine and offshore engineering
• General applications in the petrochemical industry
• Seawater desalination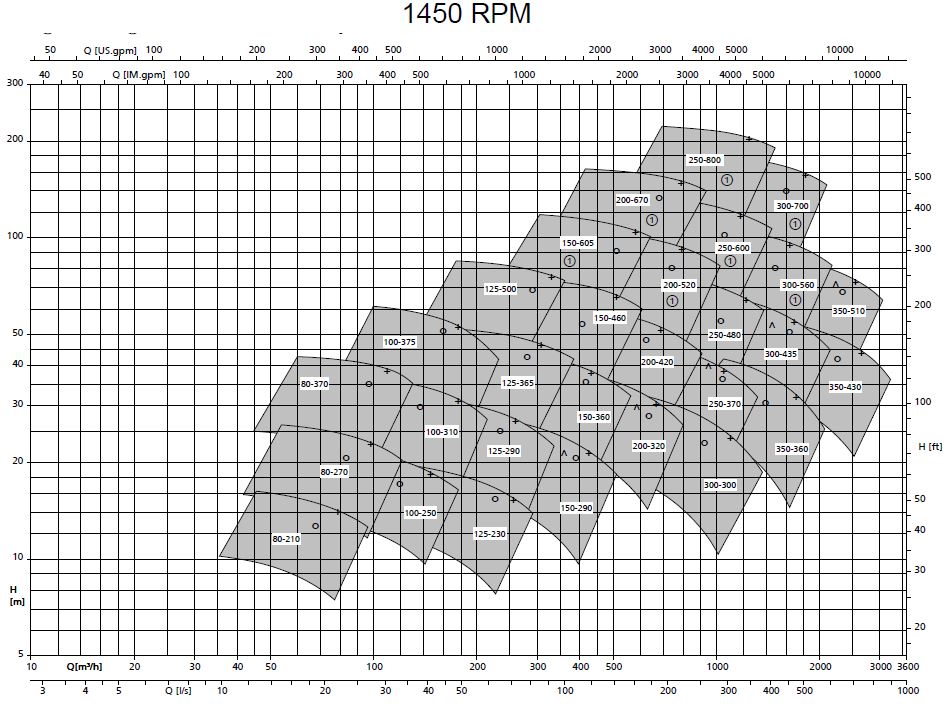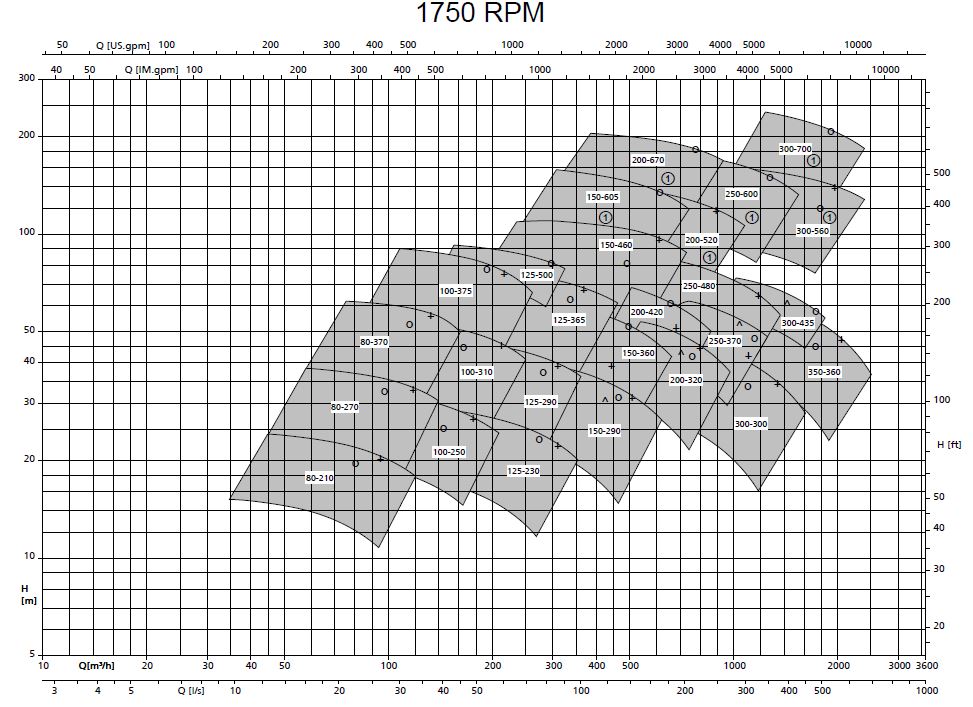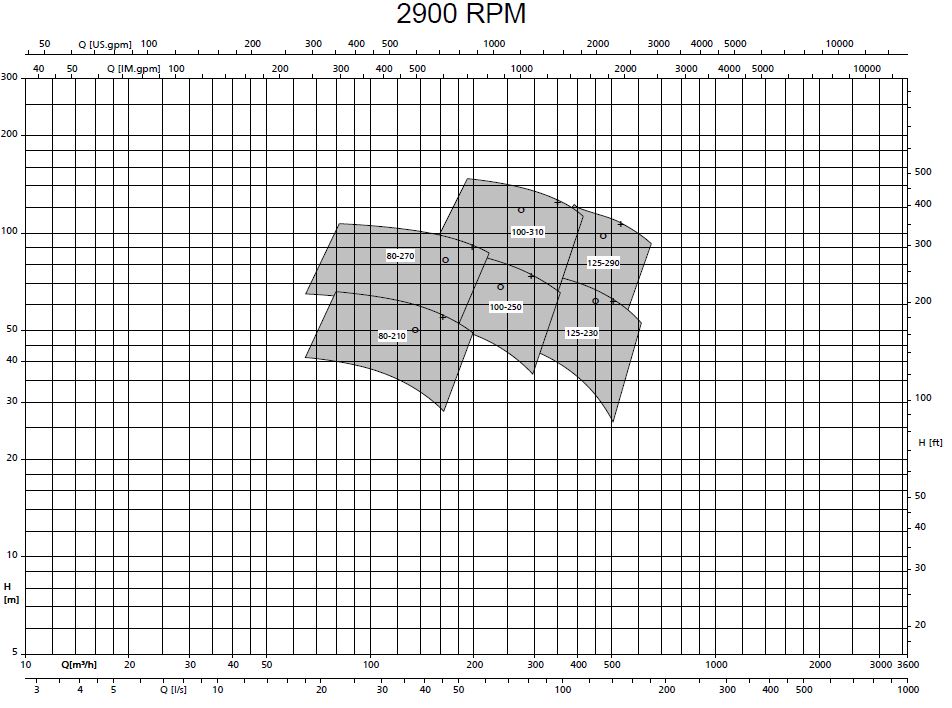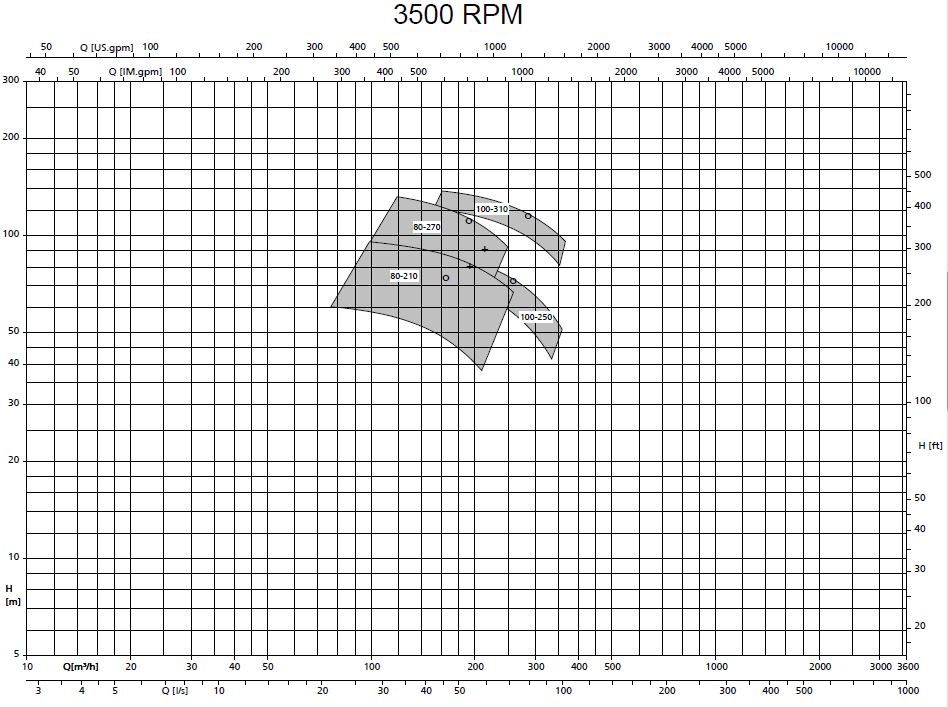 | | | |
| --- | --- | --- |
| Pump Sizes | DN 80-700 | 3 to 28 in |
| Capacity | Up to 10, 000 m3/h | Up to 44, 030 gpm |
| Discharge head | Up to 240 m | Up to 787 ft |
| Operating pressure | Up to 25 bar | Up to 363 psi |
| Temperature | Up to 140°C | Up to 284°F |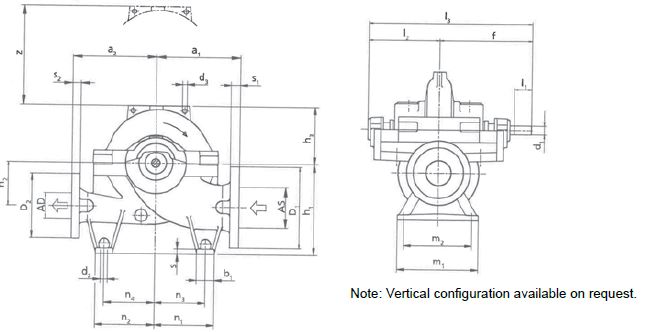 Pump Dimensions
Pump Size (mm)
Pump (mm)
Suction Side 
Discharge Side 
a1
a2
d3
f
h1
h2
h3
l2
l3
z
AS 
AD
080-210
300
300
19
415
315
140
168
300
715
340
125
80
080-270
300
300
19
415
315
140
190
300
715
380
125
80
080-370
330
330
19
415
315
140
225
300
715
450
125
80
100-250
330
330
19
415
355
170
195
300
715
390
150
100
100-310
330
330
19
415
355
170
225
300
715
450
150
100
100-375
370
370
19
415
355
170
260
300
715
520
150
100
125-230
370
370
19
515
400
200
210
366
881
420
200
125
125-290
370
370
19
515
400
200
230
366
881
460
200
125
125-365
370
370
19
515
400
200
260
366
881
520
200
125
125-500
450
450
19
515
400
200
305
366
881
610
200
125
150-290
400
400
19
515
400
200
245
366
881
490
200
150
150-360
400
400
19
515
400
200
265
366
881
530
200
150
150-460
450
450
19
590
400
200
305
399
989
610
200
150
150-605
600
500
19
590
500
300
370
399
989
740
200
150
200-320
450
450
24.5
590
500
240
285
399
989
570
250
200
200-420
500
500
24.5
590
500
240
310
399
989
620
250
200
200-520
600
500
24.5
655
560
300
370
464
1119
740
250
200
200-670
650
550
30
655
600
350
430
464
1119
860
250
200
250-370
500
500
24.5
655
600
300
320
464
1119
640
300
250
250-480
550
550
30
730
600
300
355
515
1245
710
300
250
250-600
650
550
30
730
630
350
420
515
1245
840
300
250
250-800
800
700
30
810
710
400
520
585
1395
1040
300
250
300-300
550
500
30
655
630
300
360
464
1119
720
350
300
300-435
650
550
30
730
670
350
365
515
1245
730
400
300
300-560
700
650
30
810
710
350
430
585
1395
860
400
300
300-700
750
650
30
810
750
400
485
585
1395
970
400
300
350-360
650
550
30
730
670
350
410
515
1245
820
400
350
350-430
750
650
30
810
750
400
465
585
1395
930
450
350
350-510
700
650
30
810
750
400
420
585
1395
840
400
350
Foot and Shaft Dimensions
Pump Size (mm) 
Foot (mm)
Shaft (mm)
Pump Weight (kg)
b1
d2
m1
m2
n1
n2
n3
n4
s
d1
l1
Pump
Water fill 
080-210
70
19
320
270
205
205
170
170
20
35
80
185
10
080-270
70
19
320
270
205
205
170
170
20
35
80
195
15
080-370
70
19
320
270
205
205
170
170
20
35
80
205
20
100-250
70
19
320
270
235
235
200
200
20
35
80
210
20
100-310
70
19
320
270
235
235
200
200
20
35
80
225
25
100-375
70
19
320
270
235
235
200
200
20
35
80
245
30
125-230
70
19
390
340
260
260
225
225
20
45
100
250
35
125-290
70
19
390
340
260
260
225
225
20
45
100
275
40
125-365
70
19
390
340
260
260
225
225
20
45
100
300
45
125-500
70
19
390
340
315
315
280
280
20
45
100
335
55
150-290
70
19
390
340
260
260
225
225
20
45
100
350
50
150-360
70
19
390
340
260
260
225
225
20
45
100
360
60
150-460
70
19
480
430
315
315
280
280
20
55
125
440
75
150-605
70
19
480
430
385
385
350
350
20
55
125
650
90
200-320
70
19
480
430
315
315
280
280
20
55
125
450
80
200-420
70
19
480
430
315
315
280
280
20
55
125
520
95
200-520
70
23
480
400
385
385
350
350
20
65
140
840
115
200-670
100
23
480
400
400
400
350
350
26
65
140
990
140
250-370
100
23
480
400
400
400
350
350
26
65
140
665
125
250-480
100
23
600
520
400
400
350
350
26
75
160
910
145
250-600
100
23
600
520
400
400
350
350
26
75
160
1215
180
250-800
100
23
600
520
525
525
475
475
26
85
180
1500
150
300-300
100
23
480
400
400
400
350
350
26
65
140
870
150
300-435
100
23
600
520
400
400
350
350
26
75
160
905
190
300-560
100
23
600
520
525
525
475
475
26
85
180
1425
225
300-700
100
23
600
520
525
525
475
475
26
85
180
1690
275
350-360
100
23
600
520
400
400
350
350
26
75
160
1100
230
350-430
100
23
600
520
525
525
475
475
26
85
180
1285
240
350-510
100
23
600
520
525
525
475
475
26
85
180
1395
290