ISD Centrifugal Pumps Series
Aquaplus Inline Motor Pumps are used to carry clean water or other liquids with similar physical and chemical properties.
Aquaplus ISD Series pumps are used to supple and drain fluids. They can also be used for high rise building, sprinkler irrigation and pressure boosting for fire fighting, long distance transportation and pressure boosting for cool and hot water circulation systems.
Features
Applications
Curves
Dimensions
These pumps are comprised of V1 motor and vertical single stage centrifugal pump. Suction and discharge ports are the same diameter and on the same horizontal axes lines. The close coupled design ensures the pump has no coupling alignment problems.
Hot Water Model
Energy exploitation
Metallurgy
Chemical engineering
Textiles
Paper manufacturing
Food and beverage
Chemical Model
Petroleum
Chemical engineering
Metallurgy
Power
Paper manufacturing
Food and beverage
Pharmaceutical
Compositive fibre
Petroleum Model
The petroleum model is used for:
Petroleum
Gasoline
Diesel oil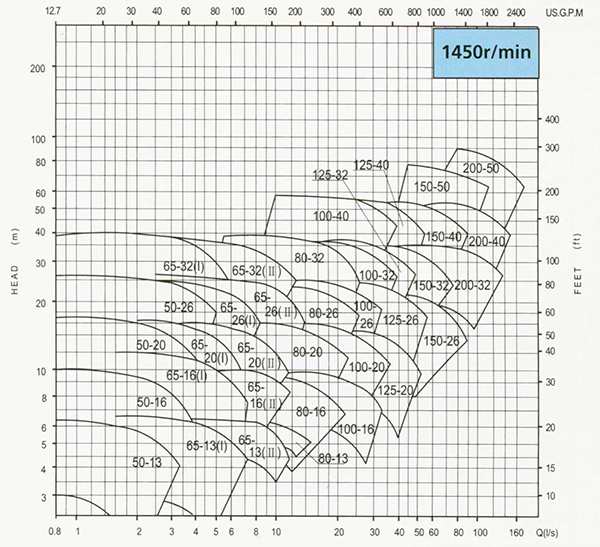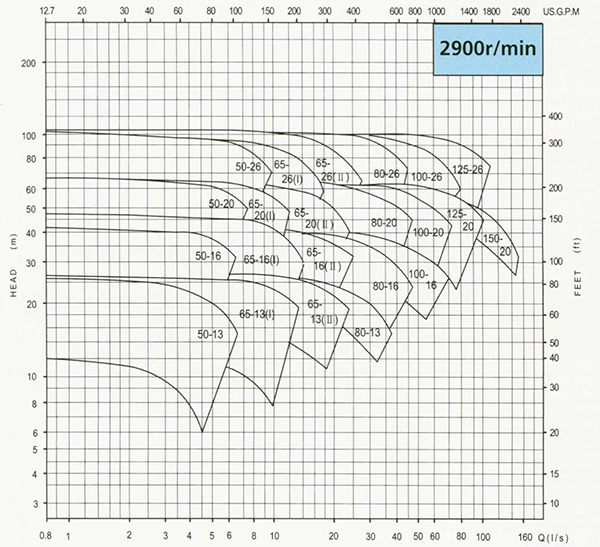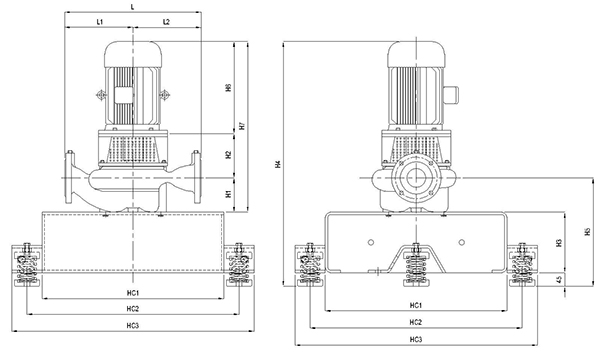 Pump model
H2
H1
H6
L1
L2
L
H3
H5
H7
HC1
HC2
HC3
ISDM-50-130-D100L
150
130
315
180
180
360
200
330
795
450
550
650
ISDM-50-130-D71
120
130
248
180
180
360
200
330
697.5
450
550
650
ISDM-50-130-D80
130
130
240
180
180
360
200
330
700
450
550
650
ISDM-50-130-D90L
140
130
322
180
180
360
200
330
792
450
550
650
ISDM-50-130-D90S
140
130
297
180
180
360
200
330
767
450
550
650
ISDM-65-130-D100L
150
140
315
180
180
360
200
340
805
450
550
650
ISDM-65-130-D112M
150
140
371
180
180
360
200
340
861
450
550
650
ISDM-65-130-D132S
170
140
374
180
180
360
200
340
884
450
550
650
ISDM-65-130-D71
120
140
248
180
180
360
200
340
707.5
450
550
650
ISDM-65-130-D80
130
140
240
180
180
360
200
340
710
450
550
650
ISDM-65-130-D90L
140
140
322
180
180
360
200
340
802
450
550
650
ISDM-65-130II-D112M
150
160
371
180
180
360
200
360
881
450
550
650
ISDM-65-130II-D132S
170
160
374
180
180
360
200
360
904
450
550
650
ISDM-65-130II-D80
130
160
240
180
180
360
200
360
730
450
550
650
ISDM-65-130II-D90S
140
160
297
180
180
360
200
360
797
450
550
650
ISDM-50-160-D100L
150
130
315
200
200
400
200
330
795
450
550
650
ISDM-50-160-D112M
150
130
371
200
200
400
200
330
851
450
550
650
ISDM-50-160-D132S
170
130
374
200
200
400
200
330
874
450
550
650
ISDM-50-160-D71
120
130
248
200
200
400
200
330
697.5
450
550
650
ISDM-50-160-D80
130
130
240
200
200
400
200
330
700
450
550
650
ISDM-50-160-D90L
140
130
322
200
200
400
200
330
792
450
550
650
ISDM-80-130-D132S
170
180
374
200
200
400
200
380
924
450
550
650
ISDM-80-130-D160M
200
180
498
200
200
400
200
380
1078
450
550
650
ISDM-80-130-D90L
137
180
322
200
200
400
200
380
839
450
550
650
ISDM-80-130-D90S
137
180
297
200
200
400
200
380
814
450
550
650
ISDM-65-160-D100L
172
160
315
220
220
440
200
360
847
450
550
650
ISDM-65-160-D112M
172
160
371
220
220
440
200
360
903
450
550
650
ISDM-65-160-D132S
190
160
374
220
220
440
200
360
924
450
550
650
ISDM-65-160-D71
120
160
248
220
220
440
200
360
727.5
450
550
650
ISDM-65-160-D80
150
160
240
220
220
440
200
360
750
450
550
650
ISDM-65-160-D90L
160
160
322
220
220
440
200
360
842
450
550
650
ISDM-65-160-D90S
160
160
297
220
220
440
200
360
817
450
550
650
ISDM-50-200-D112M
150
160
371
225
225
450
200
360
881
450
550
650
ISDM-50-200-D132S
170
160
374
225
225
450
200
360
904
450
550
650
ISDM-50-200-D160M
220
160
498
225
225
450
200
360
1078
450
550
650
ISDM-50-200-D80
130
160
240
225
225
450
200
360
730
450
550
650
ISDM-50-200-D90S
140
160
297
225
225
450
200
360
797
450
550
650
ISDM-65-160II-D100L
152
180
315
225
225
450
200
380
847
450
550
650
ISDM-65-160II-D132S
170
180
374
225
225
450
200
380
924
450
550
650
ISDM-65-160II-D160M
200
180
498
225
225
450
200
380
1078
450
550
650
ISDM-65-160II-D80
110
180
240
225
225
450
200
380
730
450
550
650
ISDM-65-160II-D90L
140
180
322
225
225
450
200
380
842
450
550
650
ISDM-65-160II-D90S
140
180
297
225
225
450
200
380
817
450
550
650
ISDM-65-200-D132S
170
160
374
225
225
450
200
360
904
450
550
650
ISDM-65-200-D160M
200
160
498
225
225
450
200
360
1058
450
550
650
ISDM-65-200-D80
130
160
240
225
225
450
200
360
730
450
550
650
ISDM-65-200-D90L
140
160
322
225
225
450
200
360
822
450
550
650
ISDM-65-200-D90S
140
160
297
225
225
450
200
360
797
450
550
650
ISDM-80-160-D100L
147
180
315
225
225
450
200
380
842
450
550
650
ISDM-80-160-D132S
167
180
374
225
225
450
200
380
921
450
550
650
ISDM-80-160-D160L
197
180
542
225
225
450
200
380
1119
450
550
650
ISDM-80-160-D160M
197
180
498
225
225
450
200
380
1075
450
550
650
ISDM-80-160-D80
90
180
240
225
225
450
200
380
710
450
550
650
ISDM-80-160-D90L
137
180
322
225
225
450
200
380
839
450
550
650
ISDM-80-160-D90S
137
180
297
225
225
450
200
380
814
450
550
650
ISDM-100-160-D100L
150
180
315
250
250
500
200
380
845
600
700
800
ISDM-100-160-D112M
150
180
371
250
250
500
200
380
901
600
700
800
ISDM-100-160-D160L
200
180
542
250
250
500
200
380
1122
600
700
800
ISDM-100-160-D160M
200
180
498
250
250
500
200
380
1078
600
700
800
ISDM-100-160-D180M
200
180
562
250
250
500
200
380
1142
600
700
800
ISDM-100-160-D200L
208
180
660
250
250
500
200
380
1248
600
700
800
ISDM-50-260-D100L
148
160
315
250
250
500
200
360
823
600
700
800
ISDM-50-260-D160L
198
160
542
250
250
500
200
360
1100
600
700
800
ISDM-50-260-D160M
198
160
498
250
250
500
200
360
1056
600
700
800
ISDM-50-260-D90L
138
160
322
250
250
500
200
360
820
600
700
800
ISDM-50-260-D90S
138
160
297
250
250
500
200
360
795
600
700
800
ISDM-65-200II-D100L
150
180
315
250
250
500
200
380
845
600
700
800
ISDM-65-200II-D132S
170
180
374
250
250
500
200
380
924
600
700
800
ISDM-65-200II-D160L
200
180
542
250
250
500
200
380
1122
600
700
800
ISDM-65-200II-D160M
200
180
498
250
250
500
200
380
1078
600
700
800
ISDM-65-200II-D90L
140
180
322
250
250
500
200
380
842
600
700
800
ISDM-65-200II-D90S
140
180
297
250
250
500
200
380
817
600
700
800
ISDM-65-260-D100L
156
180
315
250
250
500
200
380
851
600
700
800
ISDM-65-260-D160L
206
180
542
250
250
500
200
380
1128
600
700
800
ISDM-65-260-D160M
206
180
498
250
250
500
200
380
1084
600
700
800
ISDM-65-260-D180M
206
180
562
250
250
500
200
380
1148
600
700
800
ISDM-65-260-D200L
214
180
660
250
250
500
200
380
1254
600
700
800
ISDM-65-260-D90L
140
180
322
250
250
500
200
380
842
600
700
800
ISDM-80-200-D100L
152
200
315
250
250
500
200
400
867
600
700
800
ISDM-80-200-D112M
152
200
371
250
250
500
200
400
923
600
700
800
ISDM-80-200-D160L
202
200
542
250
250
500
200
400
1144
600
700
800
ISDM-80-200-D160M
202
200
498
250
250
500
200
400
1100
600
700
800
ISDM-80-200-D180M
202
200
562
250
250
500
200
400
1164
600
700
800
ISDM-80-200-D200L
223
200
660
250
250
500
200
400
1283
600
700
800
ISDM-100-200-D100L
166
200
315
280
280
560
200
400
880.5
600
700
800
ISDM-100-200-D112M
166
200
371
280
280
560
200
400
936.5
600
700
800
ISDM-100-200-D132S
186
200
374
280
280
560
200
400
959.5
600
700
800
ISDM-100-200-D180M
216
200
562
280
280
560
200
400
1178
600
700
800
ISDM-100-200-D200L
224
200
660
280
280
560
200
400
1284
600
700
800
ISDM-100-200-D225M
224
200
701
280
280
560
200
400
1325
600
700
800
ISDM-65-260II-D100L
156
180
315
280
280
560
200
380
851
600
700
800
ISDM-65-260II-D112M
156
180
371
280
280
560
200
380
907
600
700
800
ISDM-65-260II-D132S
170
180
374
280
280
560
200
380
924
600
700
800
ISDM-65-260II-D160L
206
180
542
280
280
560
200
380
1128
600
700
800
ISDM-65-260II-D180M
206
180
562
280
280
560
200
380
1148
600
700
800
ISDM-65-260II-D200L
214
180
660
280
280
560
200
380
1254
600
700
800
ISDM-65-320-D100L
166
180
315
280
280
560
200
380
860.5
600
700
800
ISDM-65-320-D112M
166
180
371
280
280
560
200
380
916.5
600
700
800
ISDM-65-320-D132M
186
180
404
280
280
560
200
380
969.5
600
700
800
ISDM-65-320-D132S
186
180
374
280
280