Concept Plus
Prominent's Concept Plus range has a compact construction making it ideal for use alongside general bracket mounted installations and chemical storage tanks.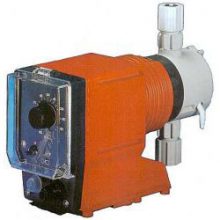 Features
Applications
Tech Specs
Capacity range 0.6 – 4 litres/hour, 10 –1.5 bar
Stroke length adjustment from 10 –100% (recommended 30 – 100%)
Material options PP and acrylic/PVC
4-setting stroke frequency adjustment from 10 – 100%
NOTE: Product information should be used as a guide only and should not be used for pump selection. For further information, please contact Malcolm Thompson Pumps on 1800 355 606.
Entry level cost effective metering solutions
General bracket mounted installations and chemical storage tanks
Machines such as grinding systems
Automated commercial car and truck washing systems
Commercial glass container rinsing systems
Part number
Max pump capacity at max back pressure
Max pump capacity at medium back pressure
Stroke frequency (strokes/ min)
Connector sizes outer Ø x inner Ø (mm)
Priming lift* (mWC)
Priming lift** (mWC)
Power supply
Admissible priming pressure intake (bar)
(bar)
(L/hr)
(mL/ stroke)
(bar)
(L/hr)
(mL/ stroke)
CNPA1000PPE200C0100
10
0.6
0.07
5
0.8
0.08
180
6 x 4
6
1.8
240 Volt, 50Hz / 60Hz
8
CNPA1000NPB200C0100
10
0.6
0.07
5
0.8
0.08
180
6 x 4
6
1.8
240 Volt, 50Hz / 60Hz
8
CNPA1601PPE200C0100
16
1
0.1
8
1.4
0.13
180
6 x 4
6
2
240 Volt, 50Hz / 60Hz
8
CNPA1601NPB200C0100
16
1
0.1
8
1.4
0.13
180
6 x 4
6
2
240 Volt, 50Hz / 60Hz
8
CNPA1002PPE200C0100
10
2
0.18
5
2.6
0.24
180
6 x 4
5
2.5
240 Volt, 50Hz / 60Hz
5.5
CNPA1002NPB200C0100
10
2
0.18
5
2.6
0.24
180
6 x 4
5
2.5
240 Volt, 50Hz / 60Hz
5.5
CNPA0704NPB200C0100
7
3.9
0.39
3.5
4.5
0.42
180
6 x 4
4
3
240 Volt, 50Hz / 60Hz
3
CNPA0308PPE200C0100
3
8
0.74
1.5
10.8
1
180
8 x 5
2
2
240 Volt, 50Hz / 60Hz
1
CNPA0308NPB200C0100
3
8
0.74
1.5
10.8
1
180
8 x 5
2
2
240 Volt, 50Hz / 60Hz
1
CNPA0215PPE200C0100
1.5
13.5
1.42
1
15.5
1.4
180
8 x 5
1.5
1.5
240 Volt, 50Hz / 60Hz
0.5
CNPA0215NPB200C0100
1.5
13.5
1.42
1
15.5
1.4
180
8 x 5
1.5
1.5
240 Volt, 50Hz / 60Hz
0.5
* Suction lift with filled suction line and liquid end
** Priming lifts with clean and wetted valves, metering fluid, water (20°C), at 100% stroke length, 180 strokes/min, atmospheric
pressure outlet and/or open venting valve and correctly installed lines