Delta
Prominent's Delta range of dosing pumps incorporates the innovative OptoDrive© technology offering all advantages in one drive, maximising dosing quality, process reliability and economy. This range provides a high accuracy low pulsation metering pump.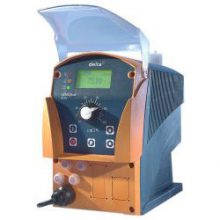 Features
Applications
Tech Specs
Capacity range 7.5 – 75 litres/hour, 25 – 2 bar
Continuous or pulsating dosing
Programmable suction and delivery stroke duration
Pump can be adapted to the dosing media
Integrated injection control optoGuard detects blocked dosing points, broken dosing lines and air or gas bubbles trapped in the dosing head
Continuous stroke length adjustment from 0 – 100% (recommended 30 –100%)
Material options acrylic, PVDF and stainless steel
Detection and indication of diaphragm failure
Adjustment and display of pump delivery from the keypad with choice of display in litres/hour or strokes/minute
External control via volt-free contacts with optional pulse multiply/ divide function
Optional external control via standard 0/4-20mA signal
Optional concentration input for volume proportional dosing
Optional automatic degassing function
NOTE: Product information should be used as a guide only and should not be used for pump selection. For further information, please contact Malcolm Thompson Pumps on 1800 355 606.
Detergent metering in industrial washers
Organic solvent metering in the pharmaceutical industry
| | | | | | | | | |
| --- | --- | --- | --- | --- | --- | --- | --- | --- |
| Part number | Pressure (bar) | Capacity (L/hr) | Stroke capacity (mL/stroke) | Stroke frequency (strokes/ min) | Connector size (mm) | Suction lift (mWG) | Power supply | Shipping weight (kg) |
| DLTA1608PVT0000UC0100ENO | 16 | 7.8 | 0.65 | 200 | 6 x 4 | 6 | 100 – 240 Volt, 50/60Hz | 10 |
| DLTA2508NPB0000UC0100ENO | 25 | 7.5 | 0.62 | 200 | 8 x 5 | 5 | 100 – 240 Volt, 50/60Hz | 10 |
| DLTA1612PVT0000UC0100ENO | 16 | 11.3 | 0.94 | 200 | 8 x 5 | 6 | 100 – 240 Volt, 50/60Hz | 10 |
| DLTA1020PVT0000UC0100ENO | 10 | 19.1 | 1.59 | 200 | 12 x 9 | 5 | 100 – 240 Volt, 50/60Hz | 10 |
| DLTA0730PVT0000UC0100ENO | 7 | 29.2 | 2.43 | 200 | 12 x 9 | 5 | 100 – 240 Volt, 50/60Hz | 10 |
| DLTA0450PVT0000UC0100ENO | 4 | 49 | 4.08 | 200 | DN10 (16mmHT) | 3 | 100 – 240 Volt, 50/60Hz | 10 |
| DLTA0280PVT0000UC0100ENO | 2 | 75 | 6.25 | 200 | DN10 (16mmHT) | 2 | 100 – 240 Volt, 50/60Hz | 10 |