Compact Series - Centrifugal Pumps
Based in Perth, WA, Stalker Pumps have been proudly manufacturing pumps since 1923. MTP is proud to be the exclusive distributor of the Stalker Pump range.
Manufactured in Australia, the Stalker Compact range of electric driven pumps are one of the strongest and dependable industrial pump ranges on the market.
They are commonly used for applications including agricultural, domestic and industrial reticulation.
Whether you require an existing pump replacement or a complete tailored solution, the Stalker Compact Series range has a pump to suit.
Features
Applications
Curves
Tech Specs
Casing/impeller/intermediate cover/ motor end coupling – cast iIron to AS1830
Direct shaft mounted impeller
Fasteners – Zn coated 4.6 – 8.8 grade
Gaskets/seals – nitrile or insertion rubber
Mechanical seal – DIN 24960 – rubber bellows type
Shaft thrower electric motor bearing protection
Ball bearings (motor) – long life, maintenance free
All major components are manufactured from cast iron complying within AS1830 150 to 220 Mpa UTS
All gaskets and seals utilised on assembly are manufactured from proven long life materials
The ball bearings fitted to the rotating element are long life heavy duty which can be supplied in sealed for life or grease lubricated assemblies
Mechanical seals are to DIN 24960 and are rubber bellows type with hard faced seats
Electric motors are fitted to suit tropical conditions
Water reticulation
Agricultural
Domestic
Bore hole water
Booster pump
Water transfer
Commercial gardens
Irrigation
Marine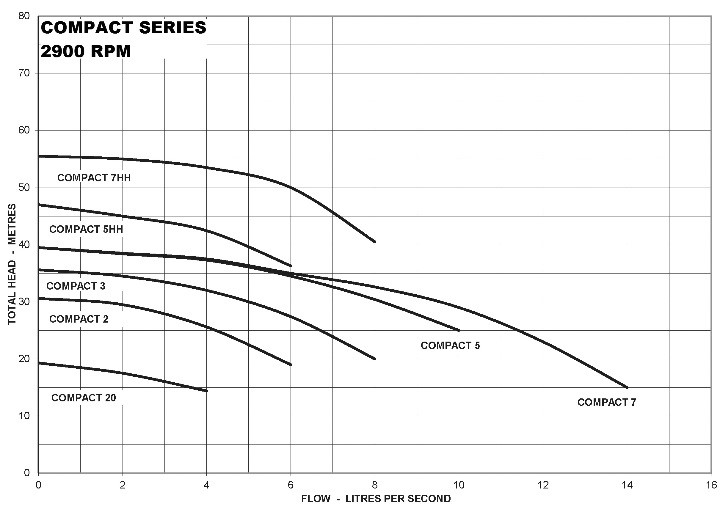 | | | | | | | |
| --- | --- | --- | --- | --- | --- | --- |
| Model | Suction (mm) | Discharge (mm) | Phase | kW | Motor Poles | Motor Frame Size |
| Compact 20LL | 25 | 20 | 240 | 0.75 | 2 | D80 |
| Compact 20LL | 25 | 20 | 415 | 0.75 | 2 | D80 |
| Compact 20LL | 25 | 20 | 240 | 1.1 | 2 | D80 |
| Compact 20LL | 25 | 20 | 415 | 1.1 | 2 | D80 |
| Compact 2 | 40 | 32 | 240 | 1.5 | 2 | D90S |
| Compact 2 | 40 | 32 | 415 | 1.5 | 2 | D90S |
| Compact 3 | 40 | 32 | 240 | 2.2 | 2 | D90L |
| Compact 3 | 40 | 32 | 415 | 2.2 | 2 | D90L |
| Compact 5HF High Flow | 50 | 40 | 240 | 4 | 2 | D112M |
| Compact 5HF High Flow | 50 | 40 | 415 | 4 | 2 | D112M |
| Compact 5HH High Head | 50 | 40 | 415 | 4 | 2 | D112M |
| Compact 7HF High Flow | 50 | 40 | 415 | 5.5 | 2 | D132S |
| Compact 7HH High Head | 50 | 40 | 415 | 5.5 | 2 | D132S |
Notes:
All pumps are from cast iron materials
Standard mechanical seals are carbon/ceramic/NBR
Other mechanical seal material types are available on request