F 426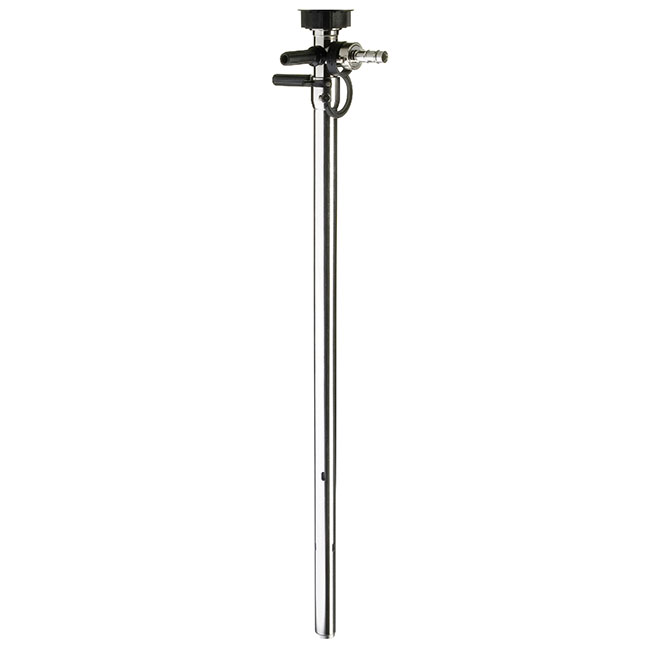 Drum pump for mixing and/or pumping
Three operating modes in one pump
Two control levers to easily open/close the mixing openings
Can be combined with various motors as required
Stainless steel version can be used in hazardous area
Description
Applications
Tech Specs
Characteristics
Appropriate Motors
Spare Parts
Downloads
The Drum pump F 426 is ideal for mixing and pumping inhomogeneous liquids. You can keep liquids moving that tend to segregate, even during pumping, with the outlet closed. E.g., via a hand nozzle, the F 426 can be temporarily operated as a pure mixing pump. By turning the adjusting lever, the pump can be easily adjusted to "mixing" or "pumping". The pump is easy to dismantle for rapid cleaning. The pump is available in stainless steel and polypropylene. The stainless steel version can also be used in hazardous areas.
Outer tube material polypropylene:
Hydrochloric acid, boric acid, sulfuric acid, citric acid, lactic acid, phthalic acid, sodium hydroxide, potassium hydroxide, ammonia water
Outer tube material stainless steel:
Petroleum, diesel, heating oil, hydraulic oil, machine oil, engine oil, gasoline, formic acid (85 %), ethyl glycol, petroleum, "MEK (methyl ethyl ketone = butanone), octane, ethanol, methanol, butanol, acetan, toluene, isobutanol, propanol, xylene, urea solutions, white spirit, diesel
• Flow rate: max. 240 l/min1
• Delivery head: max. 13 mwc2
• Viscosity: min. 1 mPas – max. 1200 mPas2
• Outer tube diameter: min. 41 mm3 – max. 50 mm3
• Immersion length: 1000, 1200
• Materials outer tube: Polypropylene, Stainless steel
• Media / Fluids: Acids, Alkalis, highly flammable media, Petroleum products, Solvents
• Seal: with mechanical seal
Commutator motors
FEM 4070
Delivery rate max. 215 l/min
Delivery head max. 10 mwc
F 457/ F 457 EL
Delivery rate max. 220 l/min
Delivery head max. 12 mwc
F 458 / F 458 EL
Delivery rate max. 200 l/min
Delivery head max. 9,5 mwc
460 Ex / F 460 Ex EL
Delivery rate max 200 l/min
Delivery head max. 9,5 mwc
F 458-1/ F 460-1 Ex
Delivery rate max 220 l/min
Delivery head max. 12 mwc
Brushless motor
FBM 4000 Ex
Delivery rate max. 220 l/min
Delivery head max. 11 mwc
Three-phase gear motor
F 414
Delivery rate max. 185 l/min
Delivery head max. 11 mwc
Compressed-air motor
F 416 Ex / F 416-1 Ex / F 416-2 Ex
Delivery rate max. 240 l/min
Delivery head max. 13 mwc
The maximum delivery rate is a test bench value, measured with water at 20°C at the pressure port of the pump, without accessories (hose, nozzle, flow meter). The practically achievable delivery rate is lower. It depends on the individual application, the fluid properties and the pump configuration. Please refer to technical data sheets / performance diagrams.