F 430 / FP 430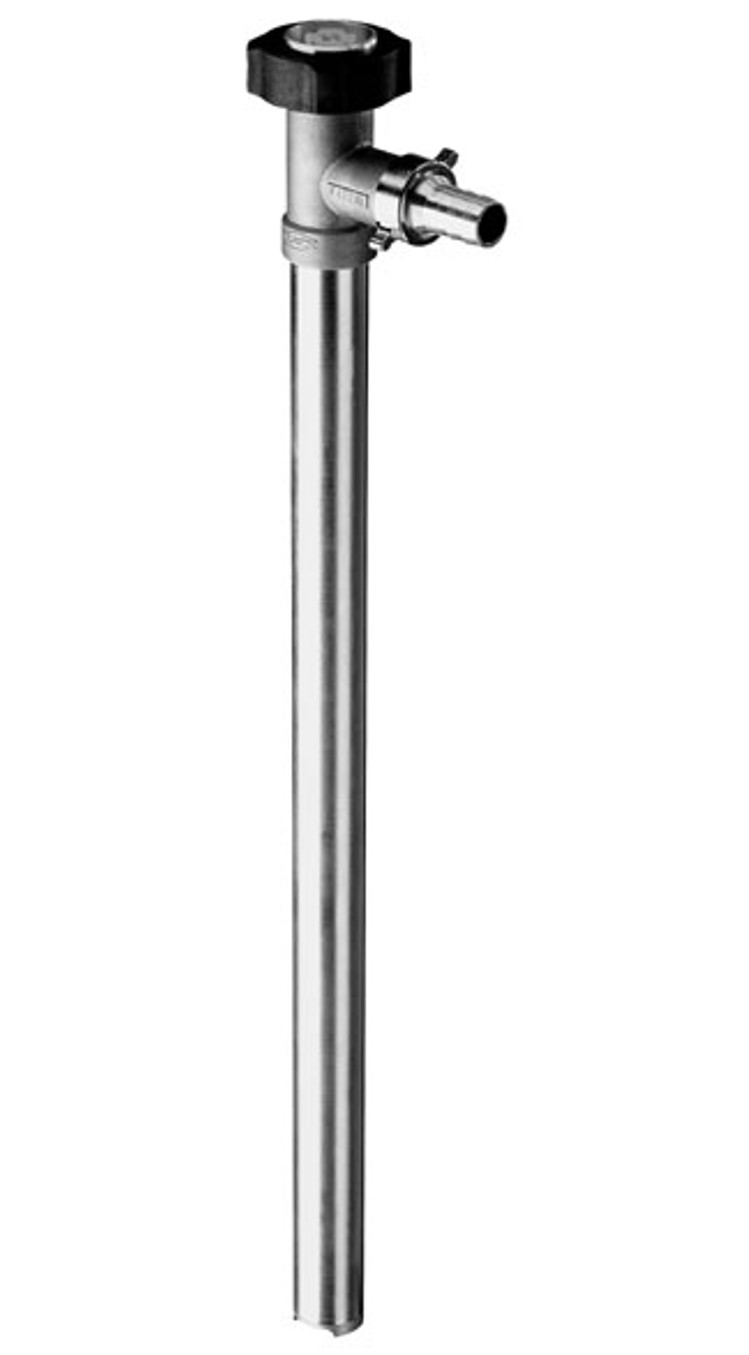 Drum pump with mechanical seal
Ideal for frequent medium changes, hardening media, fast drying media, crystallizing media
Can be taken apart into main components easily and quickly for cleaning
With mechanical seal for sealing the inner tube
The inner tube reinforced with metal core on plastic models prevents leakage and unnecessary wear of the mechanical seal in all operating temperature ranges.
High stability of the pumps in plastic version enables immersion lengths of up to 3000 mm even here
FOOD versions conform EC 1935/2004 and FDA CFR 21 for contact with food available
Description
Applications
Tech Specs
Characteristics
Appropriate Motors
Spare Parts
Downloads
The universal Drum pump with mechanical seal F/FP 430 can be used for various media and is suitable for conveying out of drums, IBCs or tanks. Due to the construction with mechanical seal, the pump can be easily and quickly taken apart into its two main components. This allows good cleanability. Distinct feature, only at FLUX: The inner tube is reinforced with a metal core on plastic models (PP and PVDF). This always allows full function of the mechanical seal. This way, leakage and unnecessary wear are prevented for the complete operating temperature range. Furthermore, it provides highest stability and makes immersion lengths of up to 3 000 mm possible. The versions in stainless steel and hastelloy C are ex-protected. The stainless steel version is also available as FOOD certified version.
Outer tube material polypropylene:
Hydrochloric acid, boric acid, sulfuric acid, citric acid, lactic acid, phthalic acid, sodium hydroxide, potassium hydroxide, ammonia water
Outer tube material polyvinylidene fluoride:
Hydrobromic acid, chloric acid, chromic acid, hydrofluoric acid, battery acid, nitric acid, nitrous acid, sulfuric acid, acetic acid (up to 80 %), methyl sulfuric, perchloric acid, peracetic acid, phosphoric acid, potassium (potash bleaching lye), sodium hypochlorite, sodium chloride (table salt), potassium chloride, sodium sulfate, sodium carbonate
Outer tube material aluminium:
Petroleum, diesel, heating oil, hydraulic oil, engine oil, machine oil
Outer tube material Hastelloy C:
Gasoline, formic acid (as from 85 %), ethylene glycol, petroleum, "MEK (methyl ethyl ketone = butanone), octane
Outer tube material stainless steel:
Ethanol, methanol, butanol, acetone, toluene, isobutanol, propanol, xylene, urea solutions, white spirit, diesel
• Flow rate: max. 240 l/min1
• Delivery head: max. 30 mwc2
• Viscosity: min. 1 mPas – max. 1200 mPas2
• Outer tube diameter: min. 40 mm – max. 50 mm3
• Immersion length: 700, 1000, 1200
• Materials outer tube: Aluminium, hastelloy C, Polypropylene, Polyvinylidene fluoride, Stainless steel
• Media / Fluids: Acids, Alkalis, Aqueous salt solutions, Fuels, Highly flammable media, Petroleum products, Solvents
• Seal: with mechanical seal
• Container: 1000 l IBC, 200 l drums, Tanks > 1000 liters
Commutator motors
FEM 4070
Delivery rate max. 215 l/min
Delivery head max. 26 mwc
F 457 / F 457 EL
Delivery rate max. 220 l/min
Delivery head max. 30 mwc
F 458 / F 458 EL
Delivery rate max. 200 l/min
Delivery head max. 23 mwc
F 460 Ex / F 460 Ex EL
Delivery rate max. 200 l/min
Delivery head max. 23 mwc
F 458-1/ F 460-1 Ex
Delivery rate max. 220 l/min
Delivery head max. 28 mwc
Brushless Motor
FBM 4000 Ex
Delivery rate max. 220 l/min
Delivery head max. 23 mwc
Three-phase gear motor
F 414
Delivery rate max. 185 l/min
Delivery head max. 21 mwc
Compressed air motor
F 416 Ex / F 416-1 Ex / F 416-2 Ex
Delivery rate max. 240 l/min
Delivery head max. 30 mwc
The maximum delivery rate is a test bench value, measured with water at 20°C at the pressure port of the pump, without accessories (hose, nozzle, flow meter). The practically achievable delivery rate is lower. It depends on the individual application, the fluid properties and the pump configuration. Please refer to technical data sheets / performance diagrams.