LSH Series – Hydraulic Driven Motor Pumps
Based in Perth, WA, Stalker Pumps have been proudly manufacturing pumps since 1923. MTP is proud to be the exclusive distributor of the Stalker Pump range.
The Stalker Pumps LSH Series hydraulic driven motor pumps are capable of emptying an average water tank within 15 minutes with flow rates of up to 40 litres per second and heads up to 100 metres.
Manufactured in Australia, the 80HL pumps are proven to withstand the toughest conditions. This pump range is suitable for pumping clean water, sea water, raw water, process water and waste water. Preferred by OEMs, and civil and mining contractors, we are committed to providing reliable pump solutions that are built to last.
At Malcolm Thompson Pumps, we offer technical back-up and spare parts for the life of the product. We can configure the pump package to suit a wide variety of application conditions and we deliver to anywhere in Australia.
The Stalker Pumps LSH Series is also available in bare shaft and motor pumps.
Features
Applications
Curves
Tech Specs
• Max flow 40L/s
• Max head 100m
• Adjustable discharge position
• Robust construction
• Gland Packing
• Mechanical seal arrangement options
• Max Temperature with standard Mechanical seal arrangement is -10°C to 120°C
Industrial
• Product transfer
• Breweries and distillers
• Wineries
Municipal
• Water supply
• Swimming pools
• Effluent treatment
• Building water services
Agricultural
• Water supply
• Spray irrigation
Marine
• Dewatering (sea water)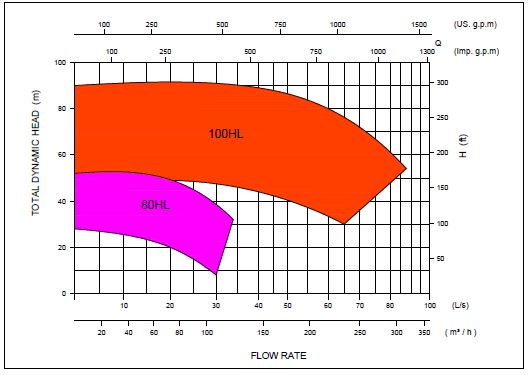 Model
Suction (mm)
Discharge (mm)
kW's Absorbed
Max
Operating
Speed
(rpm)
Torque (LBS)
Part Number  CI/CI/PG
(Without base)
80HL DC
100
80
15
1800
703
5100–040112HYD
100HL DC
150
100
50
1800
2345
6000–050112HYD
CI = Cast Iron
PG= Packed gland Braided graphite impregnated
Mechanical seal fitted pumps available on request